SOTI Connect
Managing a Large Fleet of Printers in a Fast-Paced Logistics Environment
Simplified IoT device management is critical for organizations that rely on several hundred printers to track and trace inventory and shipments within their warehouses, and throughout the entire supply chain.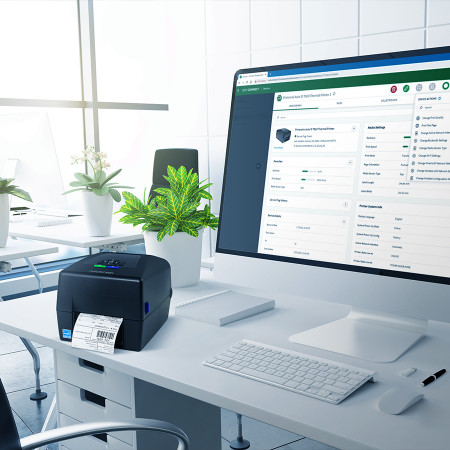 What SOTI Connect Can Do For Your Business
Manage your business-critical industrial, desktop and mobile printers
SOTI Connect addresses key printer management challenges with remote support features that reduce device downtime and workflow disruptions.
Remote firmware updates enable instant installation of firmware updates.
Remote printer configurations and settings adjustments ensure print consistency and quality across a fleet of printers.
Remote support features provide access to printer endpoints and allow organizations to perform actions to troubleshoot and remediate issues.
Automation rules automatically issue alerts and actions when pre-defined conditions are met.
Advanced data collection provides around the clock analysis of valuable printer status information to ensure printers perform reliably.
5 Reasons to Choose SOTI Connect for Your Printers
Easily Update Firmware and Apps from a Single Console
Remotely install maintenance releases or add new capabilities from TSC Printronix Auto ID to enable the latest and greatest features.
Reduce Unexpected Print Downtime and Workflow Disruptions
Set up automation rules to issue alerts and actions when pre-defined conditions are met to empower IT administrators to stay ahead of end user needs.
Change Printer Settings From Any Location
Adjust configurations and settings remotely to maintain print consistency and ensure optimal print quality.
Provide Visibility and Management for Unattended Business-Critical Printers
Instant access and real-time information to printer endpoints, and the ability to immediately troubleshoot and resolve issues, eliminates unnecessary and expensive onsite maintenance, returns and Direct-to-Factory repairs.
Collect and Analyze Data to Continue Optimal Printer Performance
From battery level to operating temperature, collect valuable printer health information to fine tune configurations and ensure printers reliably operate at full capacity, around the clock.
Printer Management Made Easy
Set up and configure fleets of TSC and Printronix Auto ID printers and make it easy to support post-deployment with little effort.
Apply maintenance or full version releases with remote firmware updates that fix bugs, patch vulnerabilities, or enable brand new capabilities instantly.
Set up alerts to monitor for printer 
Manage all printer types, shapes and sizes
Easy integration and maintenance for enterprise applications is a hallmark of TSC Printonix Auto ID, especially the Printronix Auto ID line of printers. Powered by the Printronix System Architecture (PSA), all Printonix Auto ID printers are built on an intelligent design platform with a common user interface, embedded webpage, and an array of printer language emulations.
This makes it easy to integrate Printronix Auto ID into SOTI Connect and existing applications. Once a customer is familiar with one Printronix Auto ID printer, they can easily work with any Printronix Auto ID printer.
User-friendly interface, charts, and dashboards provide real-time views of printer information and health.
Reduce maintenance, repair, and resource costs by remotely adjusting printer settings and instantly performing device actions on a single or a group of printers.
Utilize automation rules to remedy issues by setting pre-defined conditions and preconfigured actions when those conditions are met.
TSC Printronix Auto ID Printers Managed by SOTI Connect