Manufacturing
Reduce Human Error and Optimize Production
From material tracking to production process management and inventory control, barcode management systems can accurately integrate all information effectively reducing costly human mistakes while raising production capacity and product quality.
Meet Compliance Regulations and Avoid Chargeback Fees for Bad Barcodes

Thorough label inspection can save you time, money, and your reputation as a manufacturer. Avoid chargebacks and other penalties by ensuring every barcode on every label is accurate and high-quality. Our ODV inline barcode verification technology provides a high-quality check of all of your barcode labels and prompts action if a barcode fails. If a misprinted label is created, it will immediately be retracted, overstruck, and reprinted without any necessary intervention from the operator. We offer this innovative technology on both the T8000 enterprise industrial printer and the award-winning T6000e industrial printer. Both models can verify and validate 1D or 2D barcodes, grade the labels to ISO standards, and generate a report.

Better Performing RFID Printers

Our Printronix Auto ID RFID-enabled printer fleet now includes the addition of high-speed encoding, high-memory encoding, and RFID upgrade kits. With the high-speed encoding feature, customers can now print and encode labels in seconds where some models can take minutes. The addition of high-memory encoding gives customers the option to store product data directly with the item rather than in a remote database.
Improved Standalone Performance for Custom Label Menus and Applications
When a busy manufacturing floor needs to be constantly moving, customized and easy to navigate printer menus and templated label designs can save critical amounts of production time. TSC Standalone Creator is an innovative software that customers can use to create sophisticated menus and labels for standalone touch panel applications and deploy to one or an entire fleet of printers. The exclusive software makes touch panel menu customization and label design easy by using an icon-based drag-and-drop interface.
Seamless deployment to your entire fleet
No prior programming experience necessary
Easy to navigate interface
Design, save, print, and repeat!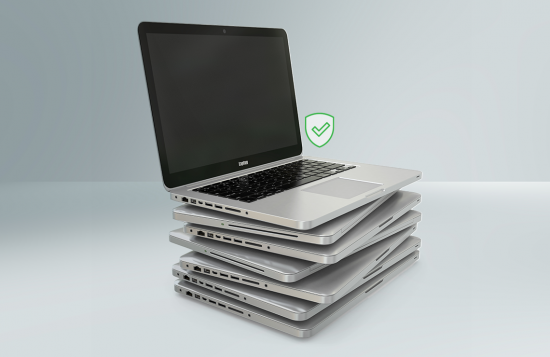 High-Value Asset Tracking with Adaptive RFID Tags
A typical large enterprise can have thousands of laptops, projectors, servers, tools, and other high-value assets that need to be monitored. Such assets, whether stationary or portable, need to be accounted for. Taking preventive measures to invest in asset tracking and labeling technology will save your organization time and money because the cost of missing an asset can have serious negative impacts on your business processes. For example, a missing tool can completely stop an assembly process and be costly in terms of downtime spent trying to relocate the tool or in replacement costs for a lost tool.
By tagging assets with RFID tags, users can quickly locate and track assets with a significantly higher degree of accuracy than the process of manually scanning barcodes. Not to mention, it eliminates the need for late shifts and large amounts of labor needed to track down and document every tool and asset within a facility.