Meet Nick Chu, Our Regional Sales Director of Southeast Asia, Division II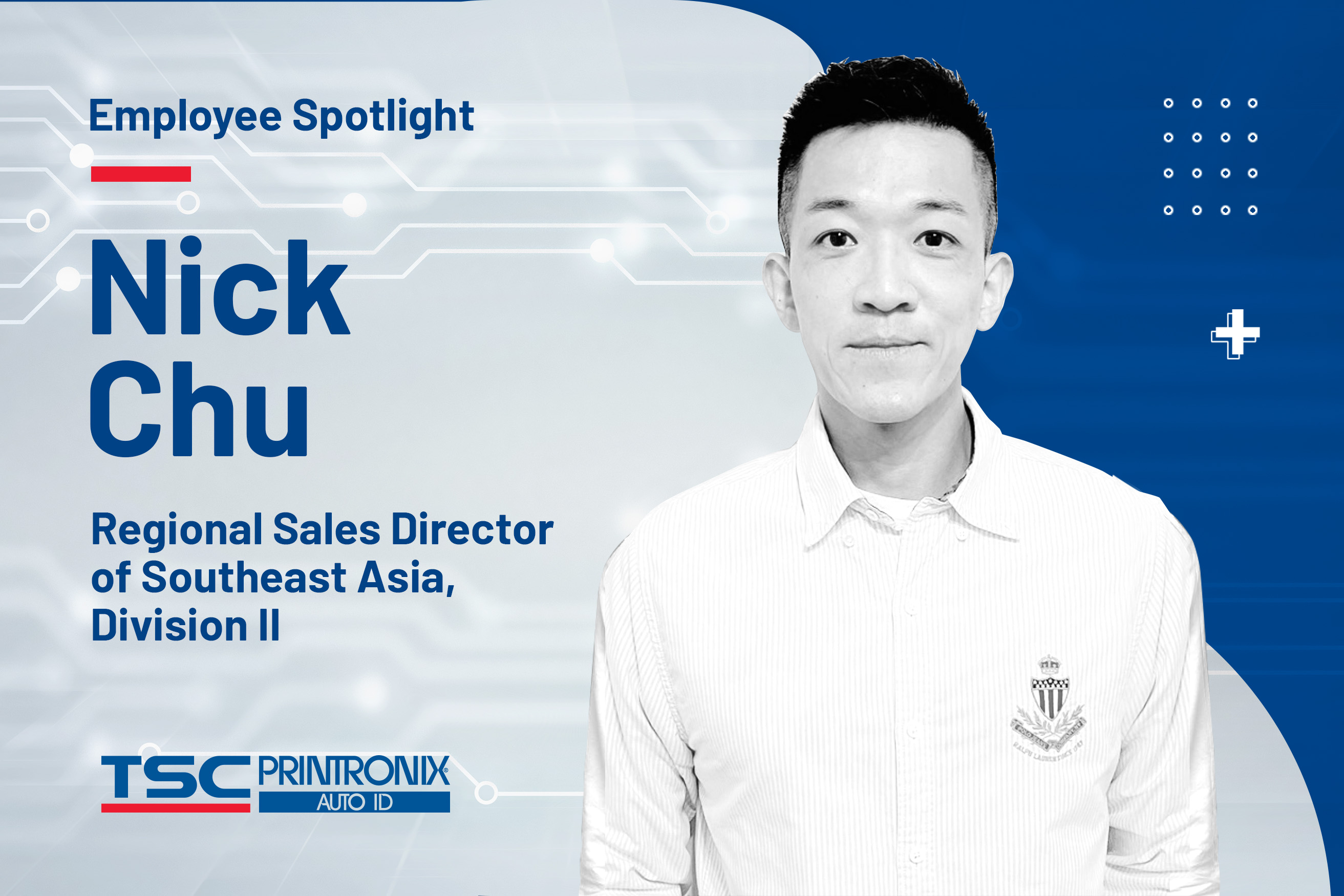 We continue to spotlight our global team members and their stellar contributions to our company. This week, it's our pleasure to highlight Nick Chu and his efforts in Southeast Asia, as the Regional Sales Director of Division II. Nick has worn many hats with the company as he's been with TSC Printronix Auto ID for over 15 years. Continue reading to learn about his growth with the company.
Tell us about your experience and expertise in the AIDC industry.
Nick Chu: I started in the AIDC industry as a Quality Assurance Assistant Engineer for the company. I was responsible for all the products' reliability testing and ISO 9001 standard certification management to ensure product and operation quality. I soon transitioned into a customer-facing Application Engineer. In that role, I handled technical support in the pre-sales and post-sales fields. Lastly, in 2012, I moved to the sales team where I'm responsible for Sales Development & Marketing activities in the key markets in Southeast Asia. All my previous work experience and roles gave me substantial technical knowledge that allows me to be a technically-driven salesperson. This benefits the customers and drives more sales. I've been with the company for over 15 years now, and it's been a great journey. TSC Printronix Auto ID has become a family to me and a second home.
What is your role in the company? Tell us about your day-to-day work.
NC: I am the Regional Sales Director of Southeast Asia, Division II. My job is to lead my team to develop more sales opportunities in emerging countries like Indonesia, Vietnam, Malaysia, Myanmar, Cambodia, Philippines, as well as to continuously expand the market share for the company. This year, I also began managing Southeast Asia's product sales development, in addition to China's pre-sales team and marketing team to continuously enhance & ensure the best sales support for our customers. Day-to-day I am quite busy, but I'm passionate about the work that I do.
What is the most rewarding part of your job? What motivates you?
NC: When my customers are happy, I'm happy! I enjoy resolving customers' problems and relieving their pain points. It feels good to make their lives easier with our products and solutions. Building new connections and making new friends through networking is another rewarding part of my job. The people I meet through networking often become our new partners and provide new business opportunities.
My team is what motivates me. Developing and supporting their talents is very important to me. Helping them reach their professional and career goals contribute to their capabilities for the company. When my team is at their best, they can be their best for the customers.
What do you like best about working for TSC Printronix Auto ID?
NC: I like what TSC Printronix Auto ID stands for. We are dedicated to developing better solutions and better products each year. We work hard to strengthen our end customers' operational efficiency and to supply the most exceptional quality products to the market.
What have you learned from the different roles within the company?
NC: The most practical treasure I've learned is product knowledge. This is a huge asset to my sales position and for solving pain points for customers. Operational insight from the factory side and from the corporate side was also a great foundation for me. This knowledge guided my understanding of each team's function and how to enhance internal cross-department collaboration, which is ultimately ideal for the company's productivity.
What is something most people do not know about you?
NC: I love basketball! I took my college basketball team to the national championship tournament. Even now, I still enjoy the sport and continue to play at least one or two times a week after work.  If you are looking for a teammate to play basketball with you or want to catch a professional basketball game together, I'm your guy!
Who is your favorite basketball team?
NC: It's hard for me to pick just one, but I would say 1995-1996 NBA Champions Chicago Bulls. The best players of my generation were Michael Jordan and Kobe Bryant. Michael Jordan motivated me to start playing basketball, while Kobe Bryant's "mamba mentality" reminds me to never give up and keep pushing myself to be a better person.
*** This interview has been edited for clarity and length.