Seeking a New Mid-Range Industrial Printer? Check Out Our Upgraded Flagship 4-Inch MH241 Printer Series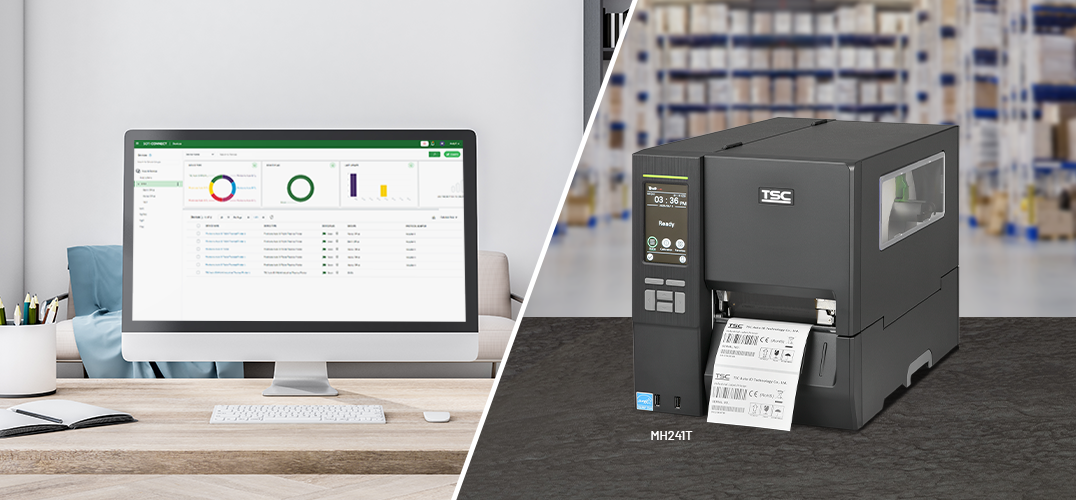 Easily Replace Your End-of-Life TTP-2410MT Printer with Our Feature-Packed MH241 Series Industrial Printers
Are you seeking a new mid-range industrial printer that can produce high volume, accurate barcode labels and has other key features that enhance operations? If so, look no further than our upgraded flagship 4-inch MH241 Industrial Printer Series.
The MH241 Series features broader wireless connectivity options including Bluetooth®, color LCD touch screens in advanced models, improved printhead management for avoiding bad barcodes, and works with remote printer management software SOTI Connect. Packed with advanced electronics, this 4-inch printer series is the perfect replacement for the end-of-life TTP-2410MT printers.
Read the blog to learn more about the MH241 flagship 4-inch industrial printer series.
Why the MH241 Series? Trusted Performance, Functionality, and Advanced Electronics
The MH241 series offers the same reliability, functionality, and trusted performance you experienced with our TTP-2410MT printers. Featuring 9 different models, the MH241 Series provides high-quality printheads that are interchangeable by different resolution and each model is available in 203 dpi, 300 dpi and 600 dpi resolutions.
"Customers can be completely confident that the MH241 series printers are backward compatible with our end-of-life TTP-2410MT printers. Anything that would run on our previous series runs on the new flagship MH241 series, with the benefit of enhanced electronics, added sensor reporting for enterprise mobility management, plus better Wi-Fi and Bluetooth," said David Lundeen, VP of Marketing at TSC Printronix Auto ID.
The MH241 Series features:
Better data protection when roaming a facility with a combination of Wi-Fi 802.11a/b/g/n/ac and Bluetooth® 4.2 modules for fast roaming and enhanced productivity.
Ease of providing proactive maintenance with its self-diagnostic TPH Care mechanism and printhead/platen roller replacement.
Standard models offer 3.5-inch color LCD screens, while advanced models come equipped with a 4.3-inch color LCD touch panel.
SOTI Connect: Remotely Manage MH241 Printers from Anywhere
The new MH241 Series was designed to work with SOTI Connect remote printer management software to enable you to remotely view and manage real-time data and settings for the health and performance of your entire printer fleet from anywhere in the world.
SOTI Connect provides several benefits that make complete lifecycle management easier for your TSC MH241 printers.
The easy-to-use software interface and dashboard displays real-time data for printer health and information, helping you identify device maintenance issues before they impact performance.
Manage printer settings and instantly perform device actions on single or multiple printers on demand.
Remote firmware updates fix bugs, patch vulnerabilities, and enable new capabilities instantly.
All these features work together with automated notification alerts to provide you with immediate printer information to support productivity and performance.
Printhead Management Improvements Mean Better Productivity
The MH241 Series offers printhead upgrades that support productivity when compared to our previous TTP-2410MT models. MH241 Series printers offer active dot checks and improved printhead mechanisms that check and report bad dots in real-time. The printers also feature a range of productivity enhancements.
Get alerts to replace a faulty printhead in advance and avoid downtime across all upgraded TSC printer models.
Store printhead usage within the printhead mechanism so you have full visibility into printhead status, health, and output level.
Captured printhead usage directly on the replaceable printhead mechanism makes it simpler to replace existing printer models.
Get Started with Our Flagship MH241 Printers
The MH241 Series offers the same reliability, functionality, and trusted performance you experienced with our TTP-2410MT printers, with added improvements that enhance productivity. To learn more about the TSC upgraded MH241 Series Printers, contact your regional sales representative or click here.