Watch the Video: All Your RFID Printer Questions Answered by Our Expert, Chris Brown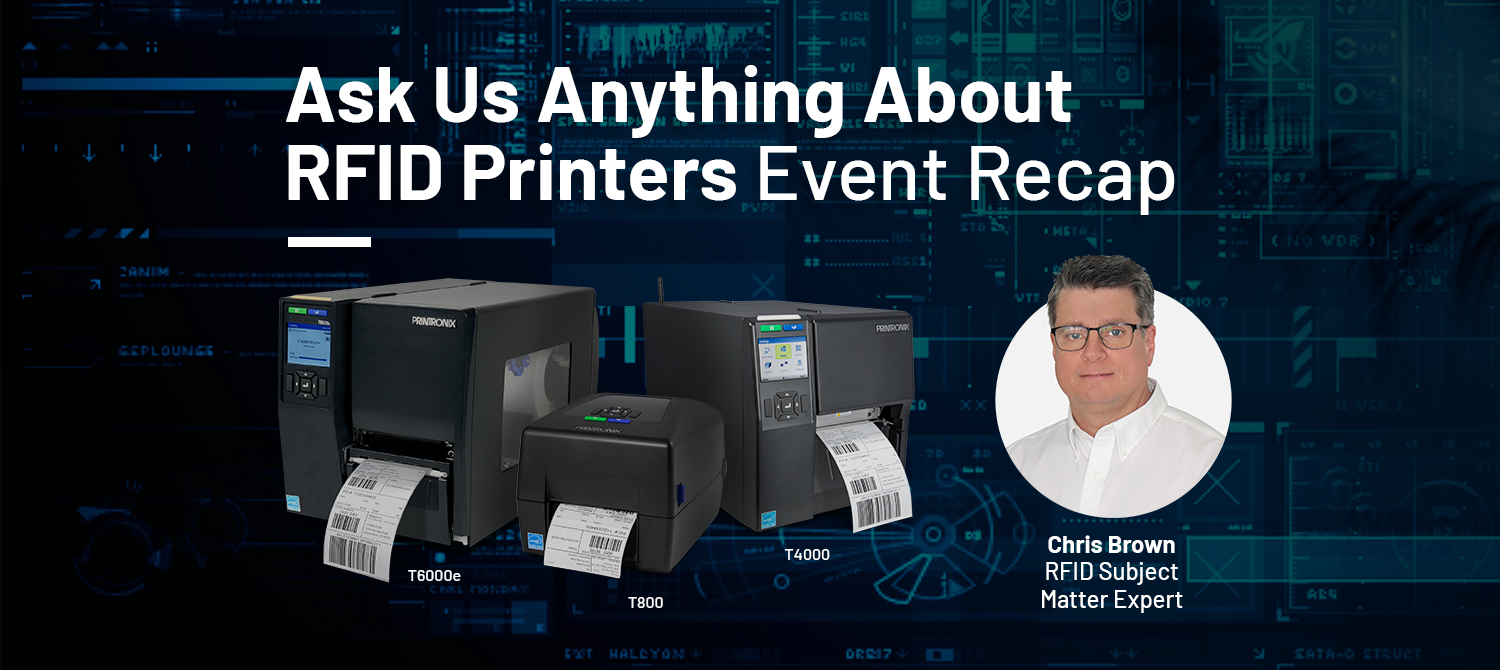 Learn About the Top 3 Benefits of Our Printer's Ability to Encode Various Inlay Placements with Ease
Are you interested in learning more about RFID printing and seeking detailed information to answer your questions? If so, then our RFID Printing Q&A video featuring our RFID Subject Matter Expert, Chris Brown, is for you. From the advantages of using a specific printer language to recommended software for printing and encoding RFID labels, printing on-metal tags with desktop and industrial printers, and more, Chris answers everything you need to know about RFID printing. And we'll share the top three benefits of our Printronix Auto ID RFID printer's ability to print various inlay placements for ease of use and cost savings. Keep reading to learn more.
Advantages and Disadvantages of Certain Printer Languages
While each printer manufacturer has their own printer language, most printers support the competitor's language. So which printer language is best and why? Chris broke down various considerations to help you select the best language for your application.
Existing Printer Language Environment: First, consider if printers are going into an environment that is already outputting a specific printer language. If the answer is yes, then Chris recommends you continue with that printer language for simplicity.
Do You Require Advanced Functionality: The second thing to consider is that one language may be more advanced than others for a specific command or set of commands. If you want to do something advanced such as a "chip-based serialization" scheme, then you would want to select a printer language that supports this.
Establishing Printers in a New Environment: If the printers are being set up in a new environment and you can choose a printer language, if all other considerations are equal, then it is typically best to go with the printer company's native language, as it has been the most extensively tested and used in the field.
Save Time & Money: How Our Printer's Indifference to Inlay Placement Benefits You
The adaptable approach to inlay placement on Printronix Auto ID RFID printers delivers numerous benefits for users, including three key benefits that help you simplify operations by saving time and money. To define inlay placement refers to where the inlay is located on the label construction. Our printer performance and speed is not limited by where the inlay is—it could be at bottom, top, or anywhere in the middle.
Chris explained this is in the video:
"Historically with RFID printers you needed to order your labels so that the inlay was placed in a very precise location to get the best performance from your particular printer brand and model. If I was using a specific brand and model number, I had to go and hunt down 4×6 labels that had the inlay placed in the correct location for that specific brand and model. If I didn't do that, the printer either wouldn't work with those labels or it would be extremely slow, or you would have a lot of forward or backfeed issues. Our printers apply different intelligence than other printer brands. When using our printers, once you have calibrated that inlay placement for those labels you're going to use, it will print and encode those labels with that inlay placement at full ."
Below we list the top three benefits of our ability to print and encode various inlay placements covered in the Q&A video.
Benefit No. 1: It Makes Your Label Sourcing Easier
The focus on inlay placement and the fact that our printers are agnostic about inlay placement resulted from our goal to make the printers faster. And it does make your printer faster. It also makes your label sourcing easier.
If you're running a different printer brand and model you need to get your 4×6 label with that exact inlay placement.
"With our printers, if the labels you've been working with are not available, go ahead and get a different inlay placement or label—load them, calibrate them, and boom you can work with them," said Chris, in the video.
Benefit No. 2: You Can Source Cheaper Labels
If you go to an RFID label supplier website, you'll find the same 4×6 label—same adhesive and inlay—but with different inlay placement and they have totally different prices. With our printers, you can simply select the least expensive label available to you.
Benefit No. 3: Printers Run Faster, and Run at Full Speed
For off-the-shelf and specialty tags with fixed inlay placement from the manufacturer, using them will not affect speeds when using our printers. And to reiterate, once you've calibrated that inlay placement for those labels you're going to use, our printers will print and encode at full speed.
Try It Risk Free: The T6000e, A Single Printer with RFID and Barcode Inspection
Our advanced T6000e enterprise printer is a single machine that performs multiple functions simultaneously. It can print, encode and perform our ODV-2D Barcode Inspection, all at the same time. This unique feature is exclusive to users of TSC Printronix Auto ID's T6000e rugged printer.
Using our auto-calibration feature makes setup and printing new media easy. Setup begins the same as with a typical non-RFID printer, by running the non-RFID media calibration. Next you push a button to run what we call "RFID Auto Calibration." The printer will then proceed automatically to RFID calibration. When the RFID calibration is done, you can save everything as a configuration. Our printers can store up to 8 different configurations for ease of operations.
The T6000e printer is also capable of handling on-metal tags on both the desktop and industrial RFID printers. The printer is not limited by inlay placement and can handle a very wide variety of tags including on-metals, plant stakes, RTIs, ESDs, wristbands, and more.
And, if you're seeking a supplier for RFID labels, you can contact our Genuine Supplies team to walk you through the label selection process.
Our T6000e printer is available with our risk-free "Try and Buy" program. Contact your local sales representative to learn more about the program. Program details and availability may vary by region.
RFID Q&A Video
Don't forget to watch the entire RFID Printing Q&A video here. For additional RFID inquiries, please reach out to our RFID Subject Matter Expert Chris Brown at CBrown@printronixautoid.com.