Labeling Solutions for Fresh Produce Distributors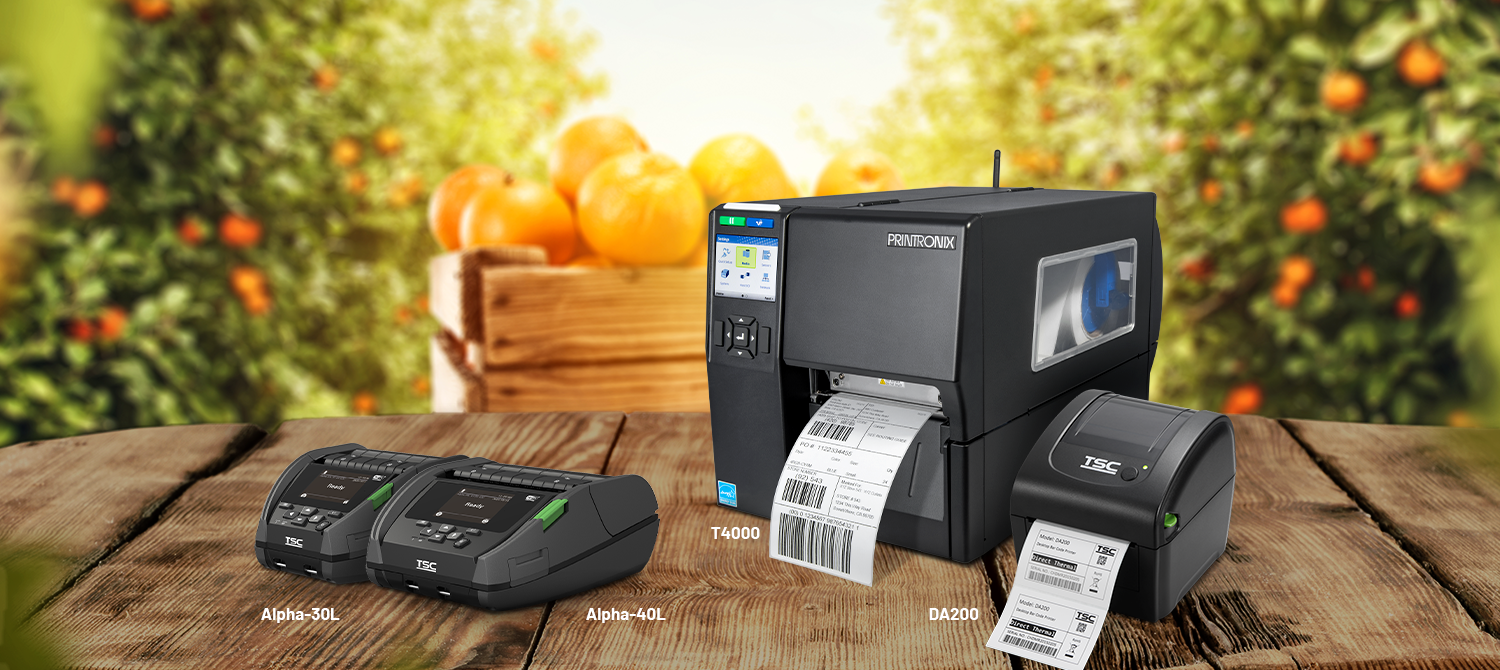 As spring and summer approach, it is peak season for many fresh fruits and vegetables. Consumers are taking a more active role in learning about where their food sources come from. Not to mention, consumers are craving more information about the food they are consuming, not only for health reasons, but also to support local farmers or producers that use environmentally sustainable practices. Farmers and other agricultural growers need an efficient and effective solution to label crops with relevant product information including sell-by date, origin, and use.
The fresh produce supply chain is a highly efficient process that requires products to move quickly and accurately with full traceability from farm to grocery store. Whether you are labeling produce fresh from the field or boxes from the manufacturer, it is important that each item is properly labeled. Our TSC and Printronix Auto ID thermal label printers can streamline produce labeling and allows growers to respond to new requirements in the supply chain at any time.
Produce Labeling with Critical Information
Fresh produce labeling involves a lot of crucial information on each label. This information can include a list of allergens in the product, expiration date, supplier information, and vital nutritional information. Our thermal printers produce high-quality, high-resolution product labels for these specific mission-critical applications.
Currently, in South Florida, avocado producers rely heavily on thermal printing to track shipments, document critical product safety information, print high-resolution labels, and much more. This market requires the delivery of asset tracking, documentation of seed production, and product information on every label to deliver products to customers compliant to industry standards and regulations.
Solutions for Automated Labeling Processes
For fresh produce labeling, the DA Series performance desktop printers, the T4000 enterprise desktop printers, and the Alpha-30L and Alpha-40L performance mobile printers are exceptional options for fresh produce labeling, to name a few.
The DA 4-inch Series of performance desktop printers features our most versatile and affordable direct thermal desktop printer and consists of four models designed to provide the right fit for your application at an affordable price. With a range of models, the DA Series provides customers with a flexible option that will fit into complex labeling environments with the same high-speed, high-quality print characteristics one might expect from a larger printer.
The T4000 is our entry-level industrial enterprise printer that can fit into almost any environment. Its rugged characteristics and small footprint make it ideal in some of the most demanding environments. The T4000 can successfully emulate nine major printer languages for seamless integration into your produce labeling operation. This enterprise-level printer provides customers with peace of mind that it will keep up with the demands of printing labels during peak season.
The new Alpha-30L and Alpha-40L mobile printers are our most rugged printers yet, able to withstand up to 6-ft. (1.8 m) drop, 8.2-ft. (2.5 m) with protective case, and are IP54-rated to protect against dirt, dust, oil, and other non-corrosive material. The new mobile printers also have extensive communication options including Apple-certified MFi Bluetooth® 5.0 with NFC Tap-to-Pair to support mobile performance in the field while moving around the farm and communicating with other devices. Customers use our performance mobile printers to increase efficiency by printing labels directly to crates and pallets in their warehouses on-demand and at the point of application.
To learn more about TSC Printronix Auto ID fresh produce labeling solutions for the agriculture industry, contact your local TSC Printronix Auto ID sales representative.
---