Our Durable TX Series Desktop Barcode Printers Offer Enhanced Features and Remote Printer Management with SOTI Connect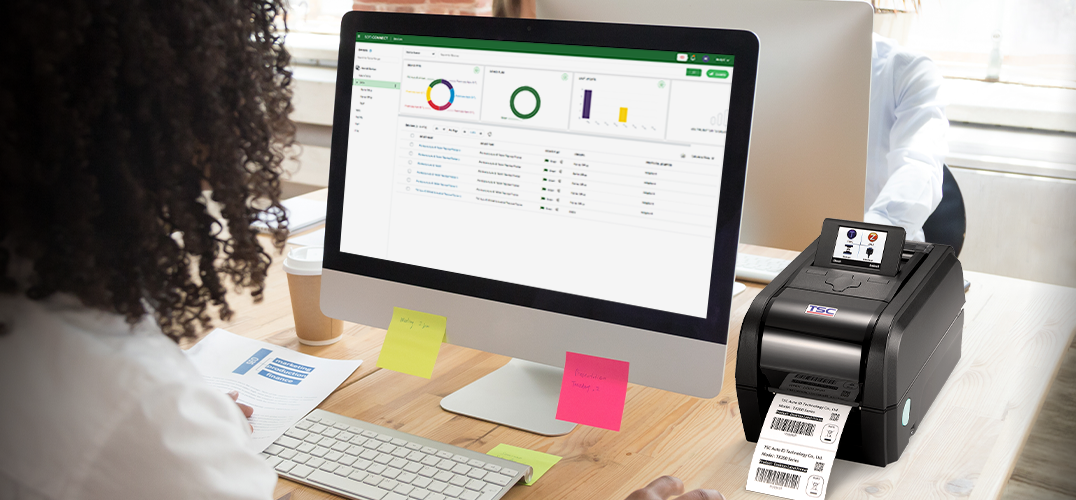 Our TX Series Printers provide a durable, high-performance thermal desktop barcode printer that offers enhanced features such as upgraded connectivity, advanced technology, and remote printer management capabilities with SOTI Connect. This series offers an affordable, best-in-class offering available in three different resolutions that is well suited for a range of applications in manufacturing, healthcare, warehouses, logistics, and more.
Read the blog to learn more about the upgraded technologies and advanced performance in our TX Series Printers.
High Volume Performance, Affordable Best-In-Class Technology
TSC's TX Series thermal desktop barcode printers excel at providing more applications than any other printer in its class. The four-inch-wide series can successfully print high volume 4×6 shipping labels, high-resolution product marking and graphic solutions, and high-resolution labels used in electronics marking applications.
The TX printer series is available in three models with different resolutions to serve your specific application needs:
TX200: A 203 dpi resolution printer with print speeds up to 8 inches per second.
TX300: A 300 dpi resolution printer with print speeds up to 6 inches per second.
TX600: A 600 dpi printer featuring the precise calibration and registration required for printing the smallest labels.
This printer line also hosts a range of features that add value, save time, and reduce costs.
Deploys a large 300-meter ribbon supply on a one-inch core for enhanced performance.
Features a user-friendly spring-loaded center-biased clamshell design for easy drop-in media loading of 5-inch media rolls.
Built with a rugged double-wall design that is stronger and more durable than other thermal transfer mechanisms available on the market, with a heavy-duty motor powerful enough for processing 300-meter-long ribbon.
Diverse connectivity options include standard USB 2.0, USB-A Host, 10/100 Mbps Ethernet and Serial connectivity interfaces. And TX200 printers come equipped with optional Bluetooth, 802.11a/b/g/n Wi-Fi and Centronics Parallel.
Real-Time Remote Printer Management with SOTI Connect
SOTI Connect remote printer management software is compatible with the TSC TX Series, enabling remote viewing and management of real-time data for printer fleet health and performance. The SOTI Connect dashboard helps you easily view printer information to track device health, performance, and usage, manage printer settings, and identify maintenance issues before they affect performance. The software also offers the following key benefits:
Robust reporting and analytics to provide business intelligence that supports your team and facilitates operational efficiency.
Advanced data collection for 24/7 printer status updates that ensures reliable printer performance.
Automatic notification alerts for abnormal printer behavior.
Enhanced visibility into asset location for better tracking, activity check-ins and operational improvements.
Remote firmware updates that fix bugs, patch vulnerabilities, and enable new capabilities instantly.
Preserve Barcode Quality with Thermal Smart Control
TSC's TX Series Printers also feature Thermal Smart Control to ensure precise barcode label printing by preventing a thermal printing phenomenon known as "welding." This occurs when the printhead dots heat up, eventually causing more heat transfer than is desirable during high volume print jobs, leading to barcode lines that grow beyond specifications.
TSC's Thermal Smart Control uses the printer's rapid processor to keep track of how many times each dot has fired and the dots on either side. For large label batches, the printer reduces the energy used to prevent this welding phenomena and preserve barcode quality.
This feature helps with process improvements, compliance with customer mandates, reduction in fines and chargebacks, and upholds your organization's reputation by ensuring consistent label quality.
TX Series: The Smarter Choice for Desktop Printer Performance
The TX Series is a feature-packed desktop printer offering advanced electronics for high performance printing at an affordable price. To learn more about the TSC TX Series Printers, contact your TSC Printronix Auto ID regional sales representative or click here.