Retailers Use RFID Tag Technology to Boost ROI and Support Loss Prevention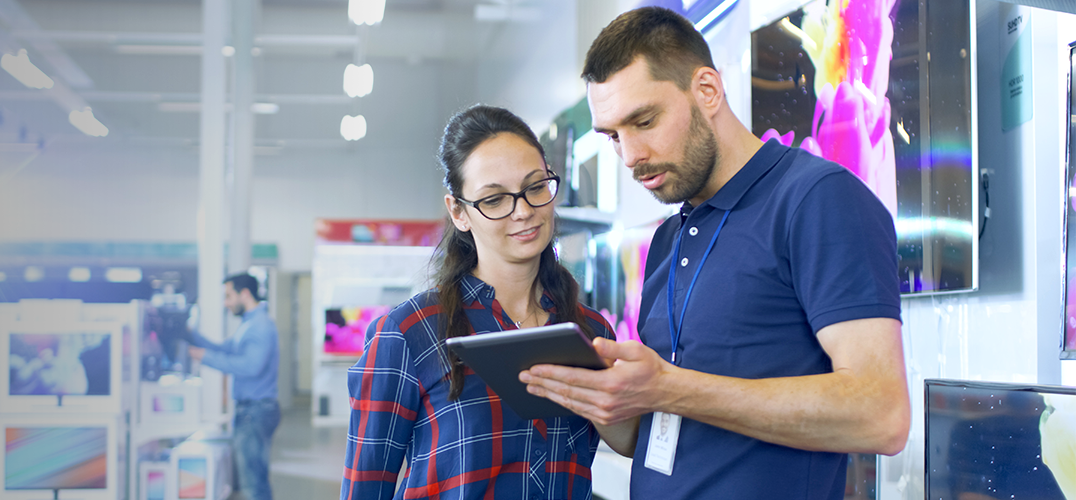 RFID tag usage in the nongrocery retail sector has become very prominent, with 93 percent of North American retailers adopting RFID at varying stages as RFID delivers a great ROI and supports loss prevention efforts.
Loss Prevention Magazine adeptly summarizes the effectiveness of RFID in their recent article: "By tagging each item with an RFID tag, retailers gain item-level visibility of their operations, allowing store associates to simply look up a product on a mobile device, locate it on the store floor or in the stockroom, then bring it to a customer, or ship it to a nearby consumer that ordered it online, or inviting that shopper to pick it up at curbside. With this much data available literally in the palm of your hand, RFID makes it much easier for store associates to provide exceptional customer service."
Continue reading to discover more about RFID in retail, including RFID printer solutions that offer simplified, high-quality RFID tag printing options for a range of applications.
Delivering Success in Retail with RFID
RFID delivers success in the retail apparel arena for several reasons. Apparel typically uses Source Tagging which involves the placement of a tag or label during or shortly after the manufacturing or packaging process. This enables the benefits of RFID to be easily leveraged downstream by everyone handling the item throughout the supply chain. 
Using Source Tagging, the manufacturer, logistics parties, warehouses, distributors and the retail stores can all read the same RFID tag and leverage its benefits. Textiles tend to be RFID-friendly and do not significantly block or absorb radio frequency (RF) signals. And bulk quantities of apparel items and typical storage configurations all create an environment in which RFID works effectively and makes financial sense.
Most apparel items are manufactured in Asia which led to an entire industry of Service Bureaus that arose several decades ago to supply traditional barcode labels to manufacturers. This allowed apparel manufacturers to focus on clothing production and outsource pre-printed labels to a local Service Bureau. As RFID grew, these bureaus added RFID encoding to their portfolios to meet demand.
RFID is not limited to retail apparel. Early on, manufacturers and their logistics partners realized that shipping units (cases, cartons, and pallets) could also be labeled with RFID to enhance tracking. As shipments exit the factory, their egress can be recorded and matched with an order number or waybill, as examples. Logistics companies then can leverage the same RFID label in their operations or apply new RFID labels at various handling and transshipment points. When these shipping units reach a distribution center, the existing RFID labels can be used or new RFID labels applied as needed, such as when shipments are recombined to form a new shipping unit.
Leverage RFID Benefits with Our Broad Portfolio of RFID Printers
RFID-enabled printers, like those in our Enterprise lineup, are used extensively in the retail sector. Service Bureaus often employ dozens of RFID printers in each of their locations.  These printers can run 24/7 to keep up with demand from local manufacturers. At manufacturing sites, RFID printers are also commonly found. These printers can be used for source-tagging and on an ad hoc basis for exception tagging, which is when an item does not have a tag but should.
These RFID printers are also used for shipping labels. Manufacturers are discovering that some particularly versatile printers, like our Printronix Auto ID T6000e enterprise printer series, can be used to print and encode non-traditional tag/label types for tagging metallic assets, high-value tools and equipment, and Returnable Transport Items (RTIs). RTIs are items such as reusable bins, totes, pallets, etc. that are valuable enough to track and can even provide insights into manufacturing processes when monitored.
RFID printers are deployed within the supply chain, primarily for tagging shipping units. When goods reach brick-and-mortar stores or a warehouse that fulfills individual orders (typically online purchases), RFID printers can be found generating tags for items with missing or damaged tags (exception tagging). With a sophisticated deployment, these RFID printers are also used to generate shelf and location labels, which can be tied into the store's software system to enable Real-Time Locating Systems (RTLS). The Printronix Auto ID T800 compact and affordable desktop RFID printer is a popular choice for in-store retail operations.
Get the Info You Need to Leverage RFID Printers
Our Printronix Auto ID RFID-enabled printers offer high quality performance in multiple applications and for a wide variety of labeling scenarios and physical tag types. Discover our portfolio of RFID printers on our website.
To determine the best Printronix Auto ID RFID printer for your business, schedule a free consult online with one of our printer experts or contact your local representative.