Watch the Video: Learn All About Barcode Inspection from Our Expert, Doug Seitz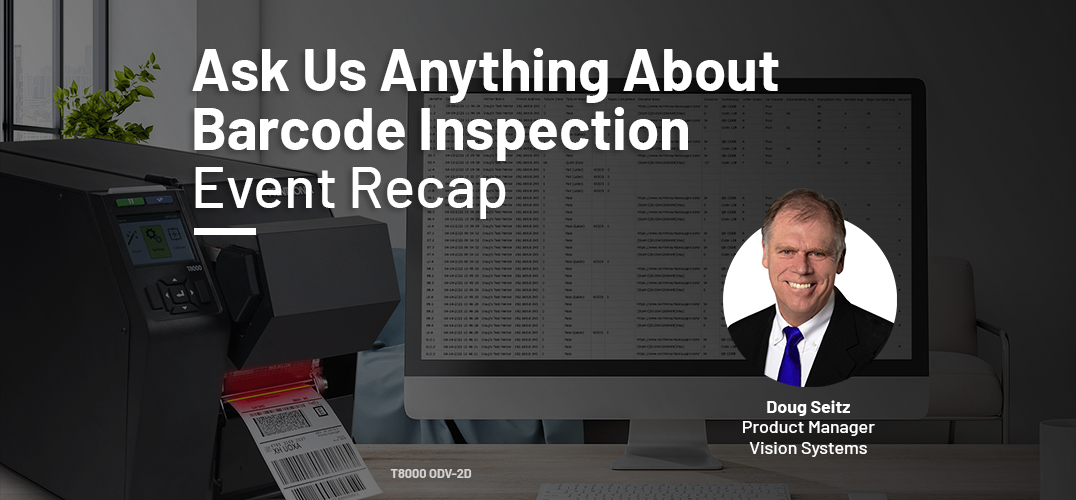 Are you interested in learning more about barcode inspection printing and seeking detailed information to answer your questions? We recently talked to our in-house expert about everything barcode inspection-related to answer your questions about ODV-1D, ODV-2D, printer setup, return on investment (ROI), and more. Our Barcode Inspection Q&A video features Doug Seitz, TSC Printronix Auto ID Product Manager – Vision Systems, who shares insights about high quality barcodes, overstrike capabilities, and how our ODV-2D printers with integrated barcode inspection systems save you time and money.
Read the blog for key highlights from the Q&A event with Doug. View the video for full coverage of our Barcode Inspection Q&A.
ODV-2D is the Future, ODV-1D is Still Available
Our ODV-2D barcode inspection system encompasses verification and validation and uses an optical system to read both 1D and 2D barcodes in any orientation. ODV-2 is where future development and investment will take place.
However, ODV-1D is a conventional industry workhorse — Doug referred to it as "a fantastic device in use at hundreds of locations." While we lowered the ODV-2D price earlier this year, many customers are still seeking ODV-1D for compatibility purposes. The good news is we still offer 1D options.
We encourage you to continue reading to learn how the cost of the ODV-2D printer pays for itself in ROI.
Tell Me About Your Barcode Inspection Printer Setup
Printronix Auto ID ODV-2D printers with integrated barcode inspection systems grade barcode labels to ISO standards, which encompasses ANSI standards, and ensures high quality labels for the most demanding, high volume industries.
Question: My current verifier requires multiple connections, software, and additional PCs. Is the Printronix Auto ID printer setup similar?
Doug explains: "Our printers are much simpler than that because of the integrated scanner. Most verifiers use an external scanner which requires you to feed paper through the printer followed by the scanner. The scanner needs a controller to drive it and a separate PC and monitor setup. In many cases, these add-on scanners require a template to identify where the barcodes are. Printronix Auto ID printers don't need any of this. Our integrated barcode inspection system is contained within a single footprint that includes everything you need to operate it. It's much simpler, and the printer is ready to go out of the box."
Dependable barcode testing and consistent label quality can be achieved using the Printronix Auto ID T8000 and T6000e ODV-2D barcode inspection printers. These printers are equipped with our integrated barcode inspection system. It's tied to the print controller and can retract and overstrike bad labels and automatically reprint them.
Integrated inspection within a single printer footprint helps facilitate:
Simpler system setup and operation with a single printer ready out of the box.
Lower costs since you do not need to invest in additional equipment or software.
Expedited processing and efficiency with built-in accuracy to find and grade up to 50 barcodes per label.
Advanced barcode label print performance using a smaller physical footprint.
Quick repair of bad barcodes. If it detects an unreadable barcode, the printer will automatically instruct the printer to back up, overstrike the label, and auto reprint without operator intervention. This is only available with an integrated solution.
Reduce Fines, Dispute Chargebacks
Consistent barcode testing and quality are achieved using the Printronix Auto ID T8000 and T6000e ODV-2D barcode inspection printers, which come equipped with scanners within the printer footprint. The T6000e is also equipped to handle both RFID and barcode verification within a single device. It is shipped fully configured and fully loaded without the need for special firmware.
Chargebacks have become a way to manage productivity and share the cost of slower processing when an unreadable barcode is met. Large retailers and manufacturers that receive a high volume of incoming goods, up to several hundred pallets per hour, are greatly inconvenienced by unreadable barcodes. They've adopted highly automated systems to receive and process incoming shipments. Any barcode failure forces a manual intervention, slowing down processing and backing up the system.
ODV-2D integrated barcode inspection reduces the risk of fines by ensuring high quality, readable barcodes. It also captures print data for reporting that can help you dispute a chargeback. You can review print data and confirm that your labels were graded 4.0 and complied when it left your dock. This provides excellent historic data for audits and to provide ammunition to contest fines.
The ODV-2D Printer Pays for Itself in ROI
A great question asked in the video: "The ODV-2D nearly doubles the cost of the printer. What's the ROI? How do I make a compelling case for buying it?"
We're excited to share that the ODV-2D printers have an extremely good return on investment. Many customers have upwards of six figures in chargebacks annually. Our integrated barcode inspection systems increase label printing accuracy, helping to reduce chargebacks. Most customers find that the printer has paid for itself within a few months. It is a very effective tool to save companies money.
Actual scenarios and chargeback amounts will differ across companies and industries. Watch the full video to see an illustration of potential ROI. To learn more about ROI and ODV-2D barcode inspection printers, contact our expert via email at dseitz@tscus.com.
For more about barcode inspection and reducing chargebacks by optimizing label quality, email us at odv@printronixautoid.com or contact your local TSC Printronix Auto ID sales representative.