How Field Service Workers Cut Costs with Mobile RFID Printers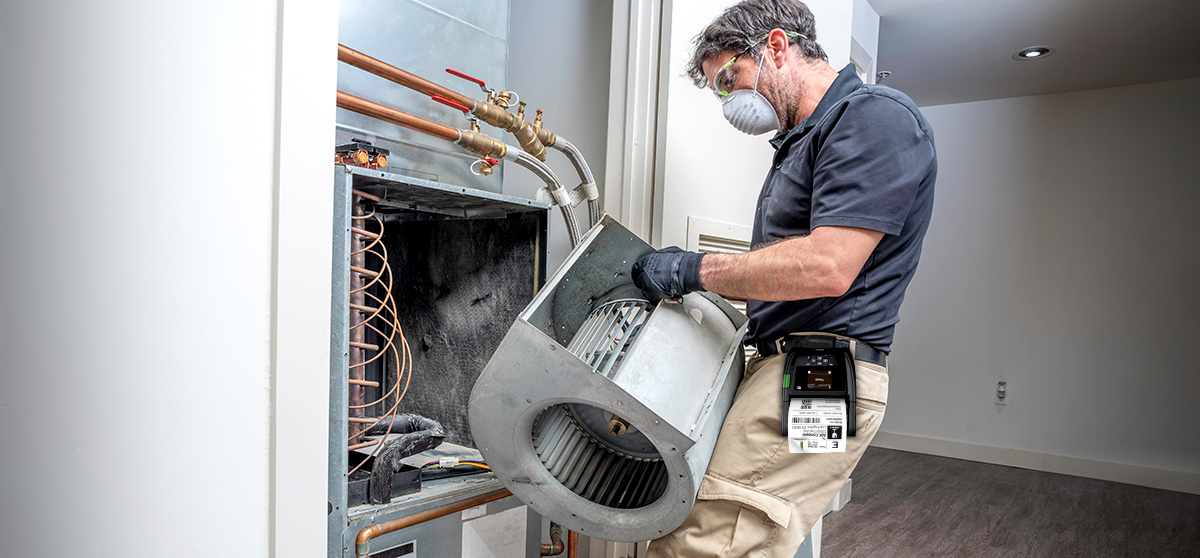 Technicians in field services need the right technology to maximize productivity. When focusing on the bottom line, there are factors that come into play for efficiency, cost, and even customer satisfaction. Regular mobile thermal label printers offer field technicians increased benefits, but direct thermal RFID mobile printers create new levels of enhanced productivity.
We understand the need for innovative technology and software to better serve businesses in field service industries. With our wide variety of stationary and mobile RFID printers, there are options for every type of business, from plumbing to HVAC and railway to white goods repair. Here's what our selection of products can do for your business and why they're so effective.
Why Leverage the Power of RFID?
By helping to eliminate manual entries and accurately identify products and parts, many turn to our RFID printers for their labeling and inventory needs since they provide specialized services that require precision and timeliness. Our lineup includes several stationary RFID printers for affordable entry-level options, all the way to mid-range and high performance printers.
For field services, our mobile RFID printer is equipped to handle workloads in many environments, due to its mobility, durability, and accuracy. For these businesses it's key to have technology that is both reliable, flexible, and efficient.
Our Alpha 40-L Performance Mobile Printers have the capacity to handle barcode reading under harsh conditions, useful for field workers in a wide array of environments. The lightweight printer can be worn throughout an entire shift, allowing your workers to function hands-free, optimizing productivity and reducing the number of items they need to carry. With the ability to forecast inventory requirements and schedule repairs, this saves time and money as it eliminates the need for walking back and forth between locations. Plus, RFID tags allow for additional memory to store maintenance and repair histories that can be easily read back and analyzed.
In comparison to barcode labels, RFID tags are the superior choice for field service. Let's look at our newest mobile series in more detail and how these printers can tackle any workload.
Mobile RFID Printers in Field Service
Our newest RFID printer is the Alpha Series 40-L 4-Inch Performance Mobile RFID Printer. This model is favorable for field service work thanks to its dust and water resistance, versatility, portability, and seamless, reliable wireless connection for on-the-go performance. This printer is also RAIN UHF compliant, user-friendly, heavy-duty, and even drop-resistant for enhanced worker mobility for printing in challenging environments.
How else can RFID tags support your business? They can:
Read through dust and dirt in almost any environment
Reduce the number of parts required on service vehicles
Eliminate manual data entry
Accurately identify products and parts
Automate dates and timestamps of repairs
Record service and maintenance history
Forecast inventory requirements and repair scheduling
Provide excellent ROI and profitability
These printers are equipped with all the tools you need for your business, along with time-saving and cost-effective outputs that help your bottom line.
Mobile RFID Printing Solutions for Your Business
Our Alpha-40L RFID mobile printer offers a hands-free solution to print and encode RFID labels in harsh environments, meaning less manual entry while maintaining compliance and quality. When your technicians are working in the field, let our printers work for you. Give them the power of mobility to enhance their productivity with ease.
To learn more about how mobile RFID printing solutions can help your field service business, explore our webpage. For news and updates on RFID printers and technology, check out our blog or inquire with your local TSC Printronix Auto ID representative.