What Drives Us to Deliver a Strong Product Portfolio, Innovative Printing Solutions, and Exceptional Support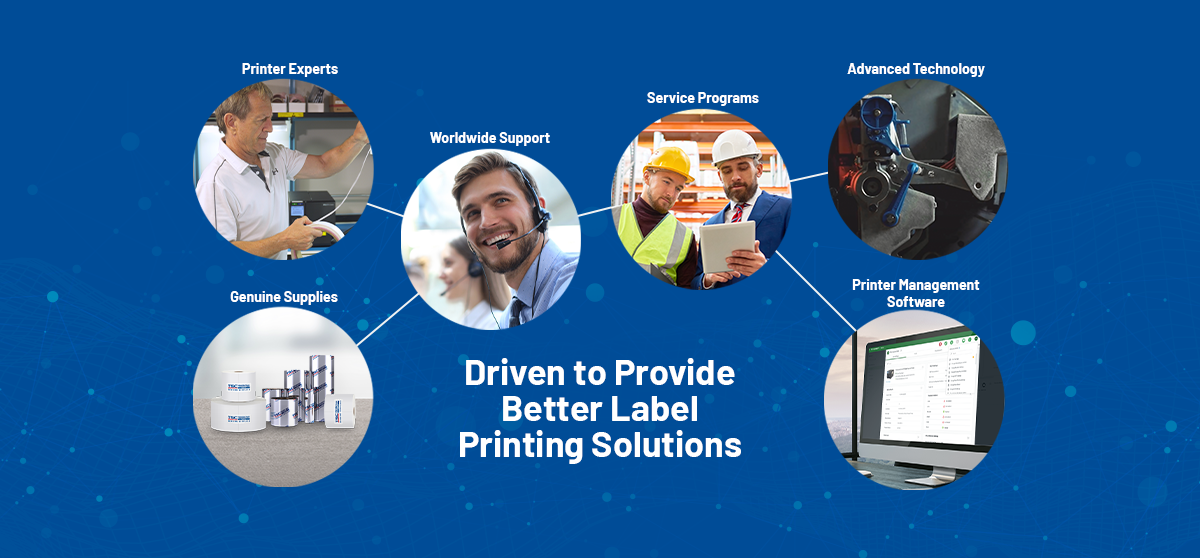 As a leading designer and manufacturer of innovative thermal printing solutions, our top priority has always been about providing quality care to each and every customer we serve. This is why we are focused on creating a company that inspires our employees, partners, and customers.
We are TSC Printronix Auto ID and we are excited to share our journey of joining forces, harnessing a team of talented thermal printer experts, and bringing together a powerful lineup of barcode label printing products and solutions.
Our core values are the driving force that guides our company and our people. These same values influence the types of products and solutions we carry in our product portfolio. Focus on our customers, the opportunity to make their lives better, and give them peace of mind, makes us excited about the future. That is why we're linking tremendous talent and extensive resources for our customers and partners and exploring new ways to support and broaden the breadth of our product offering.
At TSC Printronix Auto ID, our core values are partnership, dedication, and innovation. Our dedication to innovation is why we acquired Printronix Auto ID, and why we continue to invest in our enterprise printer line. In this blog series, we'll cover each value in greater detail. Today, we're going to dive into what this union means for our future, and for you.
TSC Auto ID began 30 years ago as an idea to bring a better, more cost-effective printer to market. From there, it grew into a rapidly growing business providing barcode label printers in the auto identification and capture (AIDC) industry. Over the decades, TSC has become a leading manufacturer and has sold more than five million thermal printers worldwide – with its focus on quality customer care still at the forefront.
So, where does that leave us now? Over the past few years, TSC has increased its expansion through the acquisition of Printronix Auto ID. In 2016, enterprise-grade powerhouse Printronix Auto ID joined the TSC family of products. Our company journeyed into a new era of printing technology, with the additions of RFID printers, barcode verification, and world-class engineering paved the way for more opportunities and alliances.
Today, TSC Printronix Auto ID is a globally trusted barcode label printer manufacturer. With one of the largest hardware product offerings in the industry, and a broad range of additional solutions, we know our customers choose us for reliable, high-performance products, incredible value, and local support.
While that catches us up to speed on where we are now, we still have so many exciting things in our future!
TSC and Printronix Auto ID: Combining Talent, Expertise, and Technology for a Stronger Future
Our customer-centric approach aims to maintain customer and partner loyalty, which is why the complementary printer lines are a perfect fit for our partners and customers. We've got a great lineup of thermal printers, software solutions, products, and services.
1. Genuine Supplies
If you're looking for a complete selection of label solutions for your customers that prolongs the life of the printer and adds better quality, try Genuine Supplies. This thorough set of products includes stock labels, custom labels, and thermal solutions. To ensure that your supplies are optimized in form, fit, and function, product experts will guide you through all stages of your consumables application.
2. Worldwide Support
To provide the best possible customer experience, our ​​operations all over the world connect our customers with local support staff. We understand the need for easy and seamless communication, so our support teams operating across the globe are standing by to help you quickly resolve your challenges. Whether you're looking for a quick fix or an in-depth technical support situation, you have two great options to solve these issues. You can submit an online inquiry or get support directly from your local office or the office geographically closest to you. Plus, our FAQ page has many helpful answers, along with resources, videos, and other invaluable tips.
3. Service Programs
In order to keep your operation running at peak performance, we offer service programs meant to increase the need for flexibility and reduce downtime, at the lowest possible cost. Between our on-site service and extended warranty program and standard priority return to depot program, you'll be covered for whatever challenges come your way. These programs deliver pre-determined, fixed costs for service and support, which are available at the time of purchase or can be added on at a later date.
4. Remote Printer Management Made Easy
With TSC Console, PrintNet Enterprise, and SOTI Connect, your remote printer management options make it easier to manage your printer fleet from anywhere. If users want to quickly monitor printers, configure settings, deploy programs, or troubleshoot problems, these three systems allow all of this and more.
We can't wait to share more about our core values in the coming months. In the meantime, be sure to visit our website to learn more about our extensive resources or contact your local TSC Printronix Auto ID representative.