How Growers Maximize Profit and Save Time with Horticulture RFID Inventory Solutions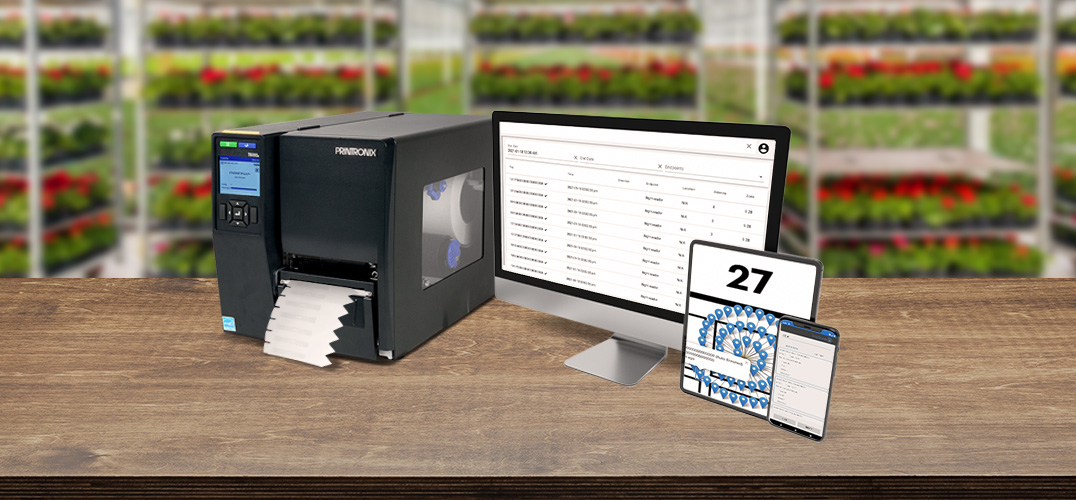 Keeping track of every plant in your nursery or crop field can feel overwhelming and outright impossible. Now there is a solution to help nurseries and greenhouse operators grow confidently and eliminate the guesswork. Harvest RFID and TSC Printronix Auto ID partnered together to develop a complete plant inventory printing and tracking system to better manage your plant inventory, reduce costs, and maximize profits.
Using Harvest RFID's one-of-a-kind RFID software platform, RealHarvest™, paired with TSC Printronix Auto ID enterprise-grade printers, growers can easily track, count, and manage inventory with a customizable suite of features that enhance existing business processes.
The possibilities with horticulture RFID inventory solutions are endless. Staff can easily determine which plants have been sold, which are still available, the planting date of each item, the quantity in each tray, locations, and more. RFID enables users to aggregate data, removing costly and time-consuming manual processes. All data is available for management with event-based reporting via smartphones, tablets, laptops, and PCs.
Read on to learn the basics of RFID and how this solution helps to solve challenges in the horticulture industry.
Introduction to RFID Basics
You may not be familiar with the basics of RFID but are highly interested in leveraging its benefits. Here we'll provide an overview to get you started.
RFID stands for Radio Frequency Identification, which is a generic term that applies to any and all solutions using radio waves to identify and track things. There are various RFID types and frequency ranges. For our purposes, we are referencing RAIN RFID. RAIN RFID is advanced and enables high speed data transfer, batch reading, and is field proven with a low cost and a solid ROI.
Basic components of a RAIN RFID solution include an RFID Plant Tag that includes a chip and antenna placed on an inlay. These tags can then be used to track items such as pots, plants, trays, and assets such as trolleys and equipment. The solution also includes an encoding device such as an RFID printer, and a reading device such as a handheld reader. Another basic RAIN RFID component is the specialized software, such as RealHarvest™ by Harvest RFID, which is needed to capture, process, and integrate the data.
Barcode solutions pose limitations due to the prohibitively large number of plants, assets, and locations that require tracking in horticulture. RFID breaks through these limitations, enabling you to easily count thousands of items or even pinpoint a specific plant. Tracking can be from either a central dashboard or a handheld device on the nursery floor.
Save Time, Improve Profitability
Horticulture industry professionals face numerous challenges that result from very large inventories or crop fields, as well as traditional logistics and inventory challenges. Also, finding new ways to optimize crop nutrients, watering, planting, and harvesting is critical to profitability. Specific challenges include:
Inventory audits that are time consuming due to the number of pots and square footage, making it difficult to cover manually.
Fast-moving inventory that is difficult to track and requires increased visibility.
Tracking in-house assets, tools/equipment, and returnable transport items (RTIs) needed for daily operations is time-consuming and error-prone.
Tracking equipment and tools that go out into the field and often do not return. The where, when and by whom these assets were last used is often a mystery.
RealHarvest™ software is designed to overcome these challenges while offering flexibility to be non-disruptive and fit into a grower's existing processes. It helps growers maximize profit and save time by improving inventory control, audits and locationing, asset and equipment tracking, warehouse management, and optimizing daily operations. RFID affords a real-world, viable solution to these challenges while minimizing errors caused by manual data entry.
As an example, when dealing with thousands of plants, visual inventory isn't enough. Estimating that you have 50K mum plants in stock is very different to your bottom line than knowing for sure you have that quantity available. Applying RFID tags to 50 count trays or tagging each plant individually allows you to know precisely what quantity you have in stock, where they are located, and when they can ship. This means you now have more control over your revenue.  
RFID can also facilitate more precision with watering and fertilizer schedules to protect your assets, preventing plant loss due to lack of nutrients.
TSC Printronix Auto ID Enterprise-Grade RFID Family of Printers
TSC Printronix Auto ID has a family of RFID printers, offering several impressive options with different sizes and functionality for horticulture industry applications.
The T800 4-inch enterprise desktop RFID printer is a small-sized, affordable desktop printer packed with features and available with printer management tools. It works well for low volume production print jobs up to 1,000 labels per day at fast printing speeds of up to 8-inches per second. 
Positioned between our T800 desktop printer and T6000e enterprise-level industrial barcode printer model is the T4000 compact industrial printer. A reliable and high-performance workhorse, it prints up to 5,000 4x6 inch labels per day at a speed of 10-inches per second.  The T4000 can also work with many different tag constructions, such as traditional labels, smaller plant stakes and on-metals tags used to track metal objects like trolleys.
The T6000e enterprise industrial RFID printer is a powerhouse that can encode and print on standard RFID paper labels most commonly used in carton or pallet supply chain applications. This printer also has optional ODV-2D barcode inspection for consistently accurate and readable barcode labels.
The T6000e can also work with complex tag constructions like the T4000, but supports an even broader variety of tag types, including plant stakes/wrap-tags up to 6.8-inches long.
Enhance Your Horticulture Operations Today with RFID Solutions
Gain control over your inventory, equipment, and crop status to maximize revenue and improve your peace of mind. Deploying RFID with TSC Printronix Auto ID printers and Harvest RFID software will allow you to automate and speed up processes, locate assets more rapidly, and improve your overall operations.
Learn more about our RFID solutions online, and contact us here to schedule a consultation.