Unique Harvest RFID Software and Tadbik Plant Tags Work with Our Thermal Printers to Deliver A Complete Plant Inventory Printing and Tracking System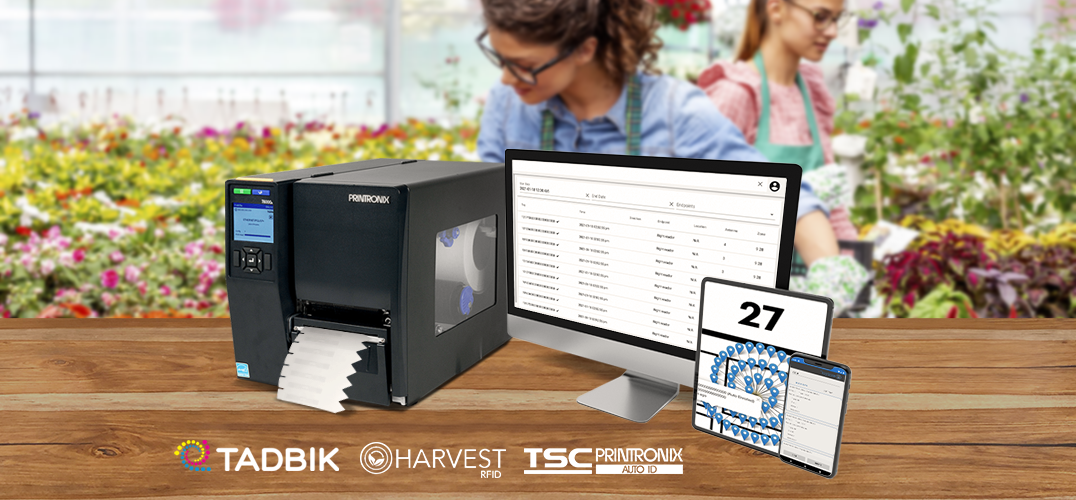 The horticulture industry's challenge is clear: Finding a specific plant or inventorying thousands of plants in vast nurseries is extremely difficult. Using Harvest RFID's one-of-a-kind RFID software platform, RealHarvest™, paired with Printronix Auto ID printers and Tadbik RFID tags, allows growers to easily track, count, and manage inventory with a customizable suite of features that enhance business processes. This partnership brings to the horticulture marketplace an exclusive total package for asset tracking, tracing, and printing, simplifying the assessment of large nurseries and locating a specific plant within a large batch. Continue reading to learn more about how this solution works.
RFID Tracking: The Grower's Game Changer
Barcodes offer a limited solution that is far from ideal for large-scale growers and nurseries. Using RFID technology enables growers to pinpoint a specific plant from either a central dashboard or the nursery floor.
RealHarvest RFID software provides efficiencies and insights that take the guesswork out of inventory management, leading to improved nursery resource deployment and asset management. With this solution, users can easily:
Determine which plants have been sold, which are still available, the planting date of each item, the quantity in each tray, locations, and more.
Aggregate data, removing costly, ineffective, and time-consuming manual processes.
Access data from anywhere with event-based reporting via smartphones, tablets, laptops, and PCs.
Using our award-winning Printronix Auto ID T6000e RFID thermal printer with Tadbik's industry-leading RFID plant stakes and tags enables quick and efficient plant tagging with custom-printed information and RFID data. Add in the RealHarvest software platform and readers to this solution and now you can locate, track, and monitor everything from individual plants to batches, shipments and even high-value assets like trolleys and irrigation equipment.
End-to-End Solution for Plant Growers
Harvest RFID provides the end-to-end solution for plant growers, transforming their way of working and giving immediate value back to the growers. The Harvest RFID Tool Shed is a total solution package that includes RFID-enabled plant stakes, RealHarvest software, readers, antennas, the Printronix Auto ID T6000e printer, and various other components as needed for each customized solution.
Deploying a complete hardware and software package with the advanced Printronix Auto ID T6000e enterprise printer, Tadbik plant tags and RealHarvest RFID software, farmers gain autonomous, real-time visibility into their operational activities around the clock. The T6000e printer is a single machine that performs multiple functions simultaneously. It can print, encode, and perform barcode verification with the optional ODV-2D barcode inspection integrated verifier. The T6000e is supplied by Harvest RFID with the RFID label encoding functionality activated. This industry-leading capability is ideal for complex nursery and horticulture plants and supply chains that require superior barcode quality and RFID shipping labels.
Exclusive Total Package for Plant Inventory Management
Our complete solution with Harvest RFID can be used with the industry-leading RFID plant stakes and tags provided by Tadbik, a global packaging solutions provider and manufacturer of RFID smart labels and tags.
Being able to print and encode on site using Tadbik's plant tags helps growers take control of their inventory with real time information and greater data accuracy. Using the latest technology, Tadbik plant tags are provided on rolls with an encapsulated inlay, such as the Avery Dennison Belt MR6. These unique, high-quality RFID plant tags have been rigorously tested and validated at TSC Printronix Auto ID's RFID Printer and Label Validation Lab to ensure compatibility with the T6000e RFID printer.
Our T6000e printer is available with our risk-free "Try and Buy" program. Contact your local sales representative to learn more about the program. Program details and availability may vary by region.
To learn more about our partnership with Harvest RFID and Tadbik, contact rfid@printronixautoid.com.
* RealHarvest is a trademark of Harvest RFID. Learn more at www.harvestRFID.com.