How Mobile Printing Solutions in Direct Store Delivery Can Reduce Delivery Costs and Improve Route Planning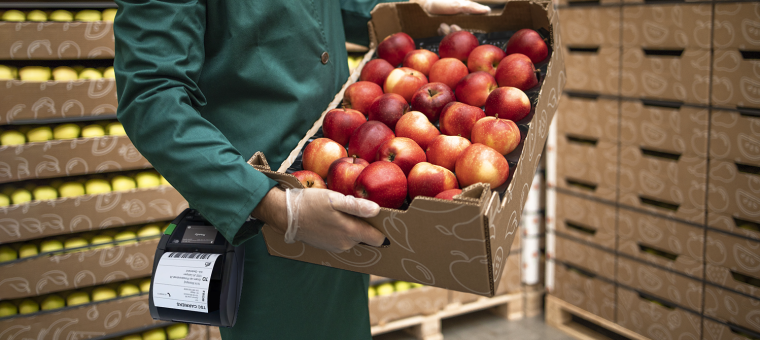 Food manufacturers looking to avoid distribution and delivery challenges are turning to mobile technology to meet the demands of a rapidly changing logistics environment. Once at the store, on-site employees can sign and receive printed receipts immediately from the delivery driver instead of waiting for an invoice to arrive in the mail. The use of mobile printers for direct store delivery helps reduce human error and saves time.
Document Products and Transport Them Efficiently from Manufacturer to Storefront
Food and beverage manufacturers looking to bypass the warehouse distribution system and deliver their products directly to grocery stores need a solution that will ensure efficient delivery and accurate tracking as their products move from the manufacturing site to the consumer. Manufacturers who are distributing their items directly to grocery stores face most of their operational challenges with delivery costs and route planning.
Food and beverage manufacturers are responsible for ensuring that their products arrive on grocery store shelves on time. For the manufacturer, this creates a range of challenges in planning for the labor and equipment costs to deliver their products, as well as effectively planning out the routes to ensure their products arrive on time and in the best quality possible.
Manufactures who conduct direct store delivery are taking on the role that warehouses or distribution centers would normally play in getting their products from the farm or manufacturing plant to the end user. By bypassing this part of the supply chain, these manufacturers can have more control and visibility over where their product is at any given time. They have internal staff and resources dedicated to moving the products directly from the source to their final destination and using printed documents to record what items were sent and received.
High-Performance Mobile Printers to Boost Efficiency and Accuracy 
Mobile printers are a key factor in direct store delivery success for manufacturers in the food and beverage industry. With all the information that can be printed on-demand and on the go by a mobile barcode label printer, both the receiving stores and the manufacturer benefit from a more efficient process. The truck drivers delivering the products can streamline the delivery process by printing receipts and invoices at the delivery site without wasting time to return to their truck, a stationary printer, or by sending an invoice in the mail. These printed records can help the store selling the products be more efficient by identifying what is moving through their store and having the correct stock on-hand.
Cutting-Edge Technology in the New Alpha-30L and Alpha-40L Mobile Printers 
The new Alpha-30L and Alpha-40L mobile printers include smart battery technology designed to report on the health and activity of the battery over an entire day out on the delivery route to ensure you are getting the highest performance.
The new Alpha-30L and Alpha-40L mobile printers have extensive communication options to perform well in the field moving from one facility to another and communicating with a variety of other devices. The printers can also communicate via Bluetooth to another mobile device. The Alpha-30L and Alpha-40L support both Android and iOS devices.
In terms of accessories, our newest mobile printers have everything from shoulder straps, belt clips, to mounting options for forklifts, as well as a range of options for docking and battery replacement to make sure the printers are always ready for use and easy to transport and operate as they move throughout the delivery route.
The Alpha-30L and Alpha-40L printers were designed with advanced enterprise mobility management technology in mind and are fully compatible with SOTI Connect. Our relationship with SOTI gives users the ability to manage their entire fleet of printers remotely, monitor battery health, and push necessary firmware updates to the printer. This is especially beneficial for manufacturers utilizing direct store delivery methods with a large number of printers moving outside of their facility by delivery drivers in a widely dispersed number of locations.
Seamless Delivery with TSC Performance Mobile Printing Solutions
TSC performance mobile printers can save time and money by streamlining labeling processes in direct store delivery environments. In industries like food and beverage manufacturing where labels and receipts need to be printed on the move and record crucial shipment information, finding the right mobile label printer is mission-critical.
To learn more about TSC Printronix Auto ID mobile printers, product information, and pricing, contact your local sales representative or click here.