Industry Trends for Optimizing Barcode Printing with TSC Printronix Auto ID Printers and Label Software Partner TEKLYNX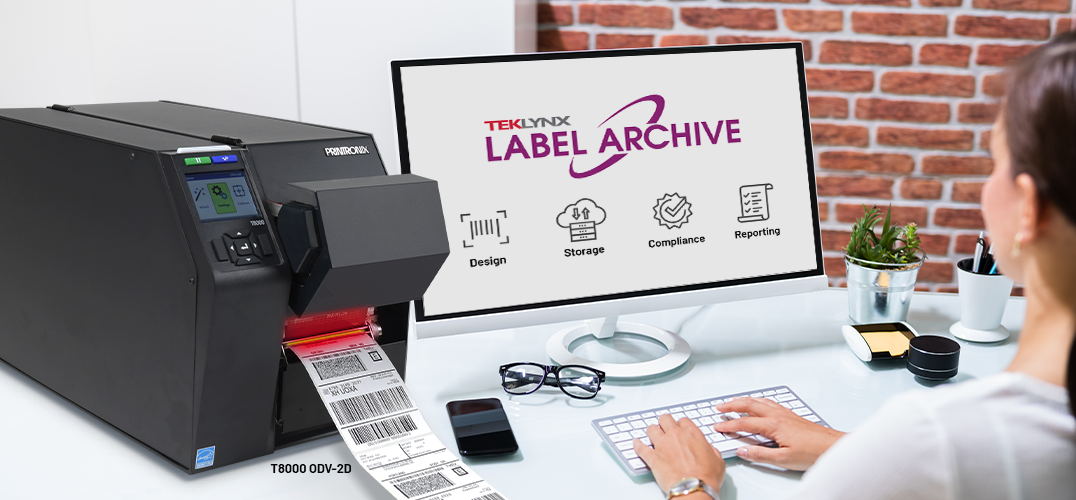 TSC Printronix Auto ID partner TEKLYNX, known for its software to help companies around the world barcode better, recently published a blog, "Top Trends in Enterprise Labeling For 2021," written by their Enterprise Product Manager, Nick Recht. The article covered key business trends of TEKLYNX customers, like the adoption of cloud technology and disaster recovery, and how the company applies their enterprise labeling solutions to support customer success and efficiency.
In today's blog, we'll discuss top trends in barcode labeling printer technology from the hardware perspective and illustrate how TSC Printronix Auto ID's collaboration with TEKLYNX optimizes flexibility and enhances the barcode label printing process.
Using the Cloud to Enhance the Barcode Label Printing Process
Enterprise printing requirements increasingly demand centralized data repositories, consistent templates, and consolidated job submissions to meet high volume production processes with efficiency.
TSC Printronix Auto ID printers help you manage printer fleets that span the globe with central management of your devices via PrintNet Enterprise (PNE) or SOTI Connect. PNE software allows you to easily organize and remotely monitor your printers from anywhere in the world with a single dashboard using a networked computer. SOTI Connect enables simplified IoT device management for large printer fleets in fast-paced environments, helping you track and trace inventory throughout the supply chain.
Recht covered cloud technology in the TEKLYNX blog: "As our customers embrace cloud technology and some companies find that public cloud providers, such as AWS, offer a more reliable option of business continuity, our enterprise labeling solutions are enhanced to support their current and future needs. With CODESOFT and SENTINEL 2021, you can easily access data on-demand and print automatically from a cloud-based ERP system, leveraging OData or RESTful API."
TSC Printronix Auto ID printers are fully compatible with TEKLYNX's CODESOFT and SENTINEL 2021 solutions. These software systems include updated drivers and a wide range of emulations to support legacy data streams without modification, simplifying the printing process. Print jobs submitted in the cloud through TEKLYNX products can be printed easily using our printers.
Optimize Label Printing Workflows and Productivity
No cartons or pallets can be shipped without labels. A printer outage on a production or distribution line can significantly impact product delivery and the supply chain. Robust printers designed for high quality barcode label printing and inspection, constructed with all metal, heavy-duty motors and used with remote management tools enhance productivity and reduce downtime. View our broad portfolio of enterprise-grade printers that deliver optimized label production and high quality performance in a wide variety of applications and labeling scenarios.
Recht talked about the value of maximized productivity in the TEKLYNX article: "The ability for manufacturers to increase capacity or adjust production, without major interruptions in labeling workflows, is an important trend we're seeing in 2021 and the post-pandemic era as organizations are recovering from the disruption to production and supply chains experienced in 2020."
Barcode label failures or printer outages aren't the only thing that affects production. Printheads are also key to preventing disruptions. They have a long, but finite, life. When it is time to replace your printhead, make sure that the replacement does not require a scheduled service call as any scheduling delays could further hamper production.
To support this, our printers have user-replaceable printheads that require no tools and can be replaced in seconds, reducing delays. Our 625-meter ribbon length is longer than the standard 450-meter ribbon, which also lessens the need for operator intervention and supports efficiency.
High Availability is enhanced with rapid recovery tools such as our Quick-Change Memory Cartridge (QCMC) that stores printer configuration and network settings for easy installation of new or replacement printers. At TSC Printronix Auto ID, our enterprise printers, centralized software, and other tools help you keep your operation running smoothly.
TEKLYNX and TSC Printronix Auto ID: Easily Integrate New Devices with Software Solutions
Recht wrote that "Some manufacturers considering software solutions continue to weigh two main options: invest in custom applications or purchase off-the-shelf software solutions. The trend we're seeing with our customers around the globe is clear: No more custom enterprise labeling applications."
We agree that integrating new devices with software applications should be simple. This is why the TEKLYNX and TSC Printronix Auto ID partnership delivers easy integration. TEKLYNX solutions come with the latest drivers that ensure fully supported capabilities on our printers. Print job secure switch configurations reduce the need for operator intervention and optimize configuration settings for printer performance.  
Be Compliant, Reduce Chargebacks
Compliance with regulatory agencies and customer label standards is key. Non-compliant shipments are subject to fines, chargebacks, returns, relabeling, and/or audits. Fines can be levied for unreadable barcodes, which can occur when a compliant barcode template encounters a ribbon wrinkle or dust under the printhead.
Prevent compliance violations and reduce chargebacks by inspecting the label before it's applied to a carton or pallet. Using the Printronix Auto ID T8000 and T6000e enterprise industrial printers with integrated ODV-2D barcode inspection provides automatic barcode finding, reading and grading. Plus, these printers overstrike non-compliant labels and reprint automatically without operator intervention. All of this means peace of mind and maximum productivity.    
Adding to this peace of mind is the TSC Printronix Auto ID collaboration using the TEKLYNX LABEL ARCHIVE software solution. LABEL ARCHIVE gives you full traceability of label design, storage, and printing to support compliance with industry regulations and internal process requirements by recording the grading report for every single barcode you print. According to the TEKLYNX blog, the 2021 LABEL ARCHIVE version is enhanced with a modern web interface and improved label workflow for extended label tracking. This provides you proof of quality and compliant labels to help you during audits or when disputing chargebacks.
Enhance Your Productivity: Contact Us to Learn More
Get in touch with a printer expert at TSC Printronix Auto ID to explore how TEKLYNX products work in collaboration with our printers to provide great value, more peace of mind, and simplified printer performance with enhanced compliance for go time in your production schedule.