Maximize Productivity with Real-Time Tracking and In-The-Field Printing Using Our Rugged Mobile Barcode Printers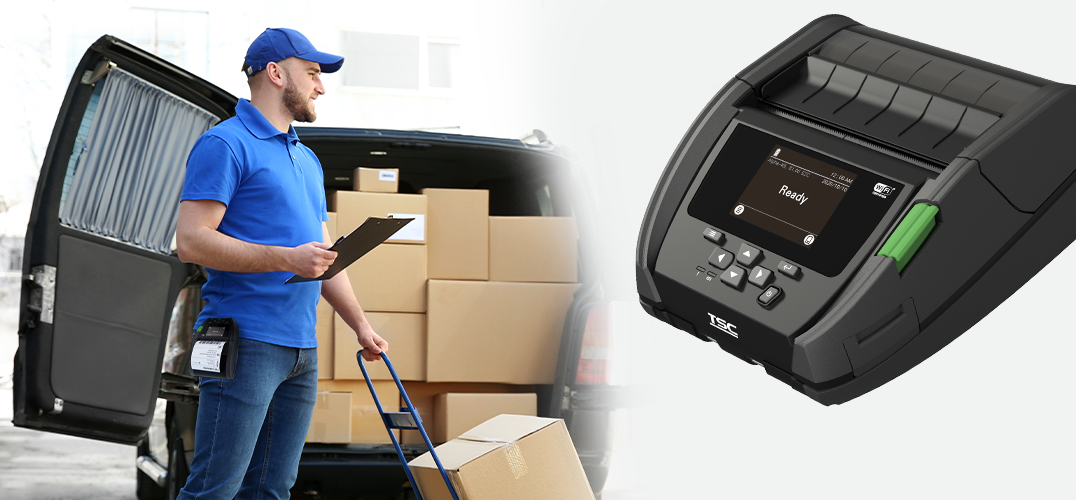 If you're looking for a rugged and reliable mobile printer for route delivery, direct store delivery, distribution centers, retail, healthcare and manufacturing environments, our TSC performance mobile printers have you covered. We offer seven different mobile models to choose from that streamline labeling processes, allowing you to print labels, receipts, and invoices on-the-go for critical shipments.
With a range of accessories from cases to shoulder straps, battery charger bays to vehicle mounts and cradles, our mobile printers support hands-free mobility for diverse labeling tasks in the field and on the shop floor. Keep reading to learn more about our mobile printers.
Mobile Productivity Designed to Last the Whole Day
Our small, lightweight, and rugged mobile printers with long battery life are made to last the entire workday and efficiently print at the point of application to reduce downtime and increase production.
The TSC Alpha-30L and Alpha-40L mobile barcode printers are designed for all-day performance whether used on-site or on a delivery route. With remote printer management and Smart Battery features, users can view battery health and activity to ensure continued mobile printer performance with no downtime.
These printers come equipped with extensive communication options, including Wi-Fi and Bluetooth, to ensure performance in the field while moving between facilities and communicating with a variety of devices.
A wide range of printer accessories optimize functionality on-the-go with individual shoulder straps and belt clips. For group access points, the printers can be mounted on forklifts or other machinery for ease of use. We also offer a range of options for docking and battery replacement so printers are always ready for use, easy to transport, and fully operational.
Users can manage their fleet of mobile printers remotely, monitor battery health, and download printer or firmware updates using SOTI Connect remote printer management software with TSC printers. This is especially helpful for those with a large fleet of printers in operation outside of their facility.
Enhanced Features: Smart Battery Technology and Bad Dot Detection
TSC's Alpha-30L and Alpha-40L mobile performance printers are user-friendly, heavy-duty, easily managed and seamlessly integrated with SOTI Connect remote printer management software. This printer series comes equipped with sophisticated TSC Sense Care to enable the printer to auto scan and detect printhead bad dots during printing so users can respond quickly and efficiently. TSC Sense Care also monitors the smart battery to ensure full shift productivity. This reduces your total cost of ownership and prevents costly downtime.
Using SOTI Connect, you can view and manage battery information and bad dot detection:
SMART BATTERY TECHNOLOGY: Vital battery health data and charge cycle history for mobile printers with visibility into activity levels and performance in mission-critical environments.
BAD DOT DETECTION: The advanced thermal printhead (TPH) mechanism allows for instant notifications to identify and address problems immediately, reducing risk and costly replacements.
These features enable you to maintain visibility into your mission-critical device activity level and keep your operations running smoothly.
Print from Anywhere: Mobile, On-Demand Printing
Our mobile solutions enable you to print from anywhere with mobile on-demand printing, bridging the gap between the office and the field. Equipped with the latest Wi-Fi and Bluetooth technology, and compatible with Android and iOS devices, these mobile printers are designed for seamless mobility communication and optimum productivity. With solutions for printing labels and invoices in the field, to mobile receipt printing with our TDM Series of 2-inch and 3-inch mobile printers, we have a solution that is right for your application.
Check out our full line of mobile barcode printers on our website. Our mobile printers are also available with our Try and Buy program or you can contact your local TSC Printronix Auto ID sales representative for more information.