Our Confidence in Printer Quality and Durability is Backed by a Standard 2-Year Warranty on All Products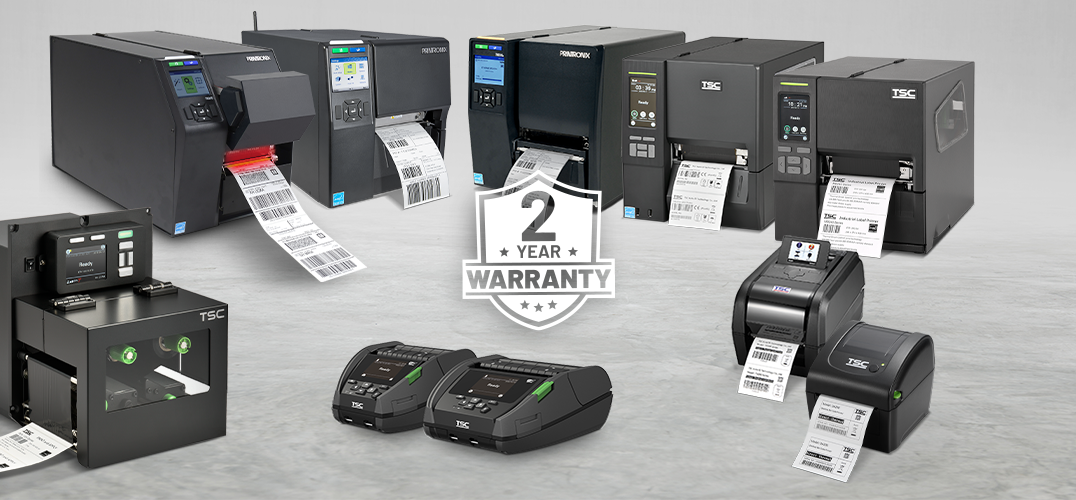 For over 25 years, we've been offering a 2-year warranty standard on our wide range of high performing, reliable and durable TSC printers. Early last year, we extended the 2-year warranty to our Printronix Auto ID enterprise line of thermal barcode printers. Now our customers can rest assured that all printers in our portfolio come with one of the best warranties on the market.
We've written numerous blogs about our printers' capacity to meet today's challenges, such as ensuring barcode quality as label sizes get smaller to accommodate a variety of industries. And getting real-time print data using our Printronix System Architecture (PSA) with our integrated optical scanning system to help you set and view printers, job, label, and barcode information, change configurations, create a unique label and job ID, and more.
Today's blog will cover warranty information for both our TSC and Printronix Auto ID printers and printheads to ensure peace of mind and a lower total cost of ownership for your printer investment.
Peace of Mind: Printer and Printhead Warranties
Our 2-year printer warranty sets the bar for the industry and illustrates our confidence that our printers are high quality, rugged and built to last. As a company that's been operating for 30 years, since 1991, we've been able to provide this 2-year warranty on our printers and remain competitive because of the quality of the products we bring to the market. By ensuring our products with this warranty, we offer both peace of mind for end users and help to reduce the total cost of ownership on your printer fleet.
Please note that our printer warranty does not include the printhead, platen roller, cutter, peeler, or internal rewinder.
TSC Printronix Auto ID partners with the best printhead suppliers in the industry to ensure we are using the fastest and most optimum printheads on the market in our printers. We also make sure our printheads include the best film coating to ensure performance and longevity. Our printhead warranty for Printronix Auto ID printers and TSC printers, covers 12 months or 1 million inches, whichever comes first. While the printhead warranty covers 1 million inches, performance can extend beyond this number depending on the type of application.
"Resellers tell us that our printhead performance and longevity is second to none," said David Lundeen, VP of Marketing at TSC Printronix Auto ID. "We believe our 2-year printer warranty is very important and we are excited to offer this assurance to our customers. We have a long history of creating durable products that last, and our printer warranty is an example of our confidence in the quality of our printers."
A Wide Range of Printers for Your Needs
From desktop to mobile, and everything in between, we offer a wide range of thermal printers—equipped with high quality printheads and backed by our printer warranty—to cover a variety of applications.
Free Consultation: Which Printer is Right for You?
We provide a free consultation to help you identify the best printer for your application needs. Our unique solutions help us deliver one of the best experiences in the thermal barcode label printing industry with a range of benefits, including:
Reduced disruption to your business operations
Simplified printer replacement with affordable, reliable, and innovative printers
Adaptable firmware that can receive another printer manufacturer's label commands, seamlessly integrating into existing printer fleets
Support for most major printer languages
The ability to print a variety of labels, tickets, and receipts
You can schedule a FREE consultation online with one of our printer experts to learn more about our solutions for new, replacement, or compatible options for discontinued and unsupported printers.