SOTI Connect Versus SOTI MobiControl: How Each Solution Helps You Manage Your Business-Critical Devices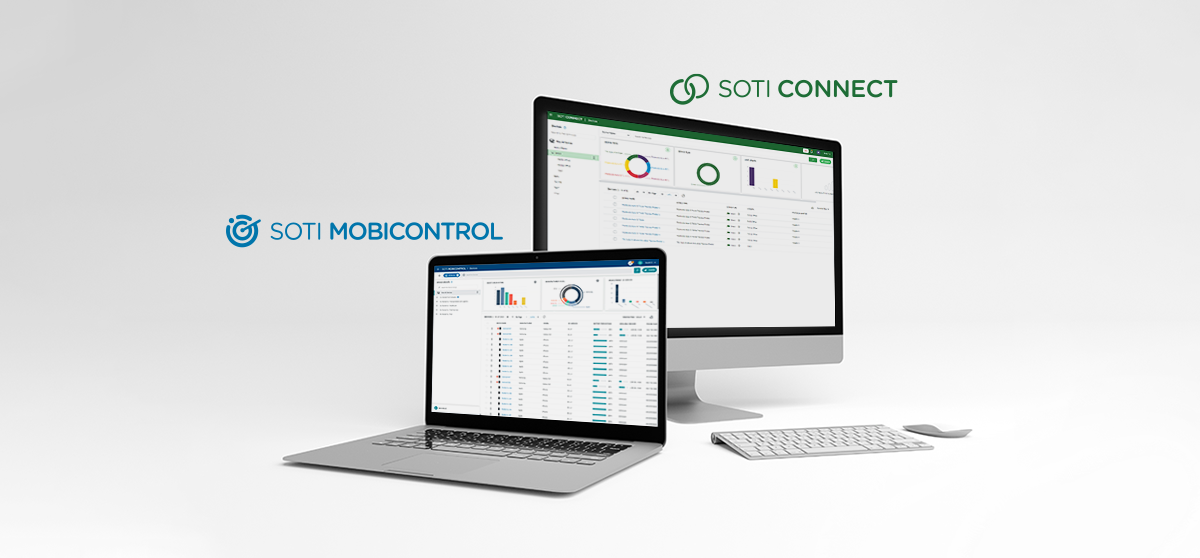 Many companies that have deployed SOTI MobiControl can also benefit from the printer management provided by SOTI's additional offering, SOTI Connect.
While these solutions may appear similar on the surface, SOTI Connect and SOTI MobiControl are fundamentally different and support unique business outcomes. Alex Lumsden, Field Marketing Manager of Small and Mid-Market at SOTI Inc., best summarized the distinctions.
"SOTI MobiControl is mobile device lifecycle management, giving organizations the power to locate, manage, and secure mobile devices across their global network," Lumsden said. "SOTI Connect offers organizations another tool to manage non-mobile devices that don't fit under the MobiControl purview — a broad strategic initiative to manage, monitor, and troubleshoot global printer fleets, and other IoT endpoints, with ease."
Understanding how these solutions differ can help you decide where they fit into your business operations. Read on to learn which solution best suits different business needs.
SOTI MobiControl for Mobile Device Management
SOTI MobiControl offers users a one-stop-shop for managing mobile devices like smartphones and tablets, whether the end user is in the office or field, and even in low-bandwidth environments. This solution is ideal for organizations with a large fleet of mobile devices where enterprise security is a top priority. With SOTI MobiControl, businesses have abilities such as:
Device lock-down—Instantly turn off access to a device and its data.
Access permissions—Dictate the permissions (such as read or read/ write) that a user has access to.
Device updates—Automatically perform updates as a security best practice, no matter where the device is located in the world.
Location detection—Locate your devices on a map view to keep track of your property.
Device clearing—Wipe company data from a device that the company no longer has access to (e.g., lost or stolen devices).
SOTI MobiControl puts your organization in the driver's seat to better protect your data through end-to-end device management. It's the ultimate tool for managing devices throughout their lifecycle and across operating systems.
SOTI Connect for Remote Printer Management
SOTI Connect is the only solution between the two that can manage IoT devices and thermal barcode label printers. SOTI Connect is a powerful remote printer management tool offering a single solution that can manage your entire printer fleet. It offers a host of benefits for users, allowing you to:
Get up and running, fast—Quickly discover, connect to, and configure your devices.
Set alerts—Automatically detect pre-defined conditions you need to be aware of so you can troubleshoot and resolve issues remotely from anywhere.
Save on maintenance and management costs—Using a single solution reduces the total cost of ownership.
Analyze critical data—Gather real-time data and actionable analytics on performance and device status.
Increase security—Configure security settings at a global level to implement across devices.
SOTI Connect brings together all of the capabilities needed to monitor and manage your barcode label printers from anywhere. It's a great option for global organizations with a large printer fleet as it can manage printers regardless of make, model, firmware, or communications protocols.
Expand the Possibilities with SOTI Solutions and Our Printers
While SOTI Connect and SOTI MobiControl share some similarities, each solution is tailored to fit a specific need and provides very distinct offerings for global enterprises and organizations. With MobiControl, you can manage security and mitigate threats for all of your organization's mobile devices—no matter where the end user is. SOTI Connect's purpose is offering full-scale monitoring and management of IoT devices, including printers, and their performance.
Even if you have deployed SOTI MobiControl for your mobile device management, SOTI Connect is still necessary to gain all the functionality needed to easily manage printers remotely from support to configurations to data collection.
To explore more about SOTI Connect to manage your TSC Printronix Auto ID printers, visit this page online or contact your local representative.