The Ultimate Guide to Spring Clean Your Barcode Label Printers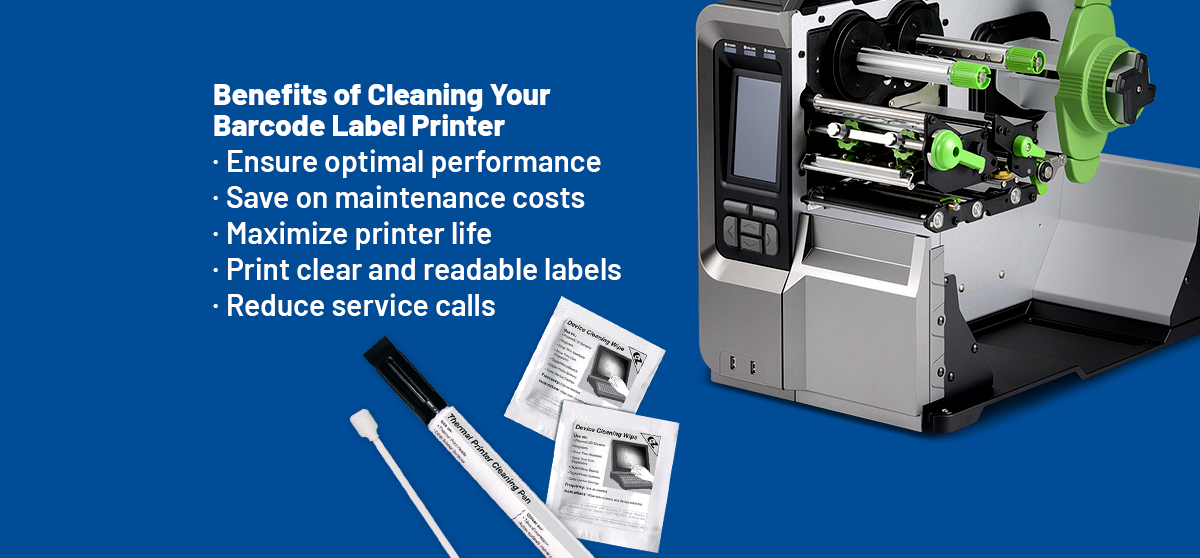 Spring is fast approaching, which means it is time to begin planning your spring cleaning. Though you may not have realized it before, this includes your barcode printers. Regular cleaning improves your printer's performance and reduces downtime.
Like most items used every day, a certain level of upkeep is recommended for your barcode printer to ensure its quality doesn't diminish. Providing routine checkups to look for any issues or areas needing attention is a good practice. However, if you aren't accustomed to cleaning your barcode printer, it may seem daunting at first. The steps are pretty straightforward and simple to implement on a regular basis.
Regular cleaning is beneficial for your barcode printer for many reasons, but what should your cleaning process look like? It involves detailed care and crucial steps, which we've outlined in today's blog to help you ensure quality and longevity for your printers.
Cleaning Basics for Your Thermal Printer
When you clean your printer regularly, you're keeping it from accumulating residues such as media dust and adhesives, which are simply a by-product of normal printing. We recommend cleaning your printhead every time you change the media roll to ensure the best printing quality and longevity. Plus, regular cleaning can boost productivity by limiting the number of interruptions in your workflow.
While cleaning, make sure you're using the recommended cleaning solutions and supplies, which can be found in your user manual. You can also locate high quality cleaning supplies for your printer through TSC Printronix Auto ID Genuine Supplies that can help extend the life of your product. The wrong materials could damage your printer or printhead, and can cause printer malfunctions, so make sure to carefully select the right options.
When a printer goes down, every minute you are down impacts your bottom line. By regularly cleaning your printer, you ensure it is operating at optimal capacity, minimizing business disruptions and maximizing productivity.
Once you've committed to a cleaning routine for your TSC Printronix Auto ID printer, it's important to understand some of the dos and don'ts of the process. Because there are safety practices to consider when cleaning, it's not something that should be rushed or done without the proper procedures. Read the following information from our handy guidelines to prepare for your printer's spring cleaning.
Set the printer power switch to "O" (Off) before performing any cleaning or disinfecting tasks. Leave the power cord connected to keep the printer grounded and to reduce the risk of electrostatic damage.
Do not wear rings or other metallic objects while cleaning any interior area of the printer.
Use only the cleaning agents recommended in this document or your printer's user manual. The use of other agents may damage the printer and void its warranty.
Do not spray or drip liquid cleaning solutions directly into the printer. Apply the solution on a clean, lint-free cloth, and then apply the dampened cloth to the printer.
Do not use canned air in the interior of the printer as it can blow dust and debris onto sensors and other critical components.
Only use a vacuum cleaner with a nozzle and hose that are conductive and grounded to drain off static build-up.
A 99% or greater isopropyl alcohol content must be used to reduce the risk of moisture corrosion to the printhead.
Do not touch the printhead by hand. If you do end up touching it, use a 99% Isopropyl alcohol to clean it.
Always take personal precautions when using any cleaning agent.
Benefits of Regular Cleaning
We've touched already on a few ways that regular cleaning is beneficial for your barcode printers. The primary reasons to clean your printers are to:
Ensure optimal performance
Save on maintenance costs
Print clear and readable labels
TSC Printronix Auto ID printers are built to last. By doing your part to help them remain clean and in working order, you are taking a crucial step to ensure your printer's longevity and run your business more efficiently. Be sure to check out our YouTube channel for cleaning tutorials and more.
For more information, please contact your local TSC Printronix Auto ID representative.