What Barcode Professionals Need to Know about RAIN RFID Tag Selection and Sourcing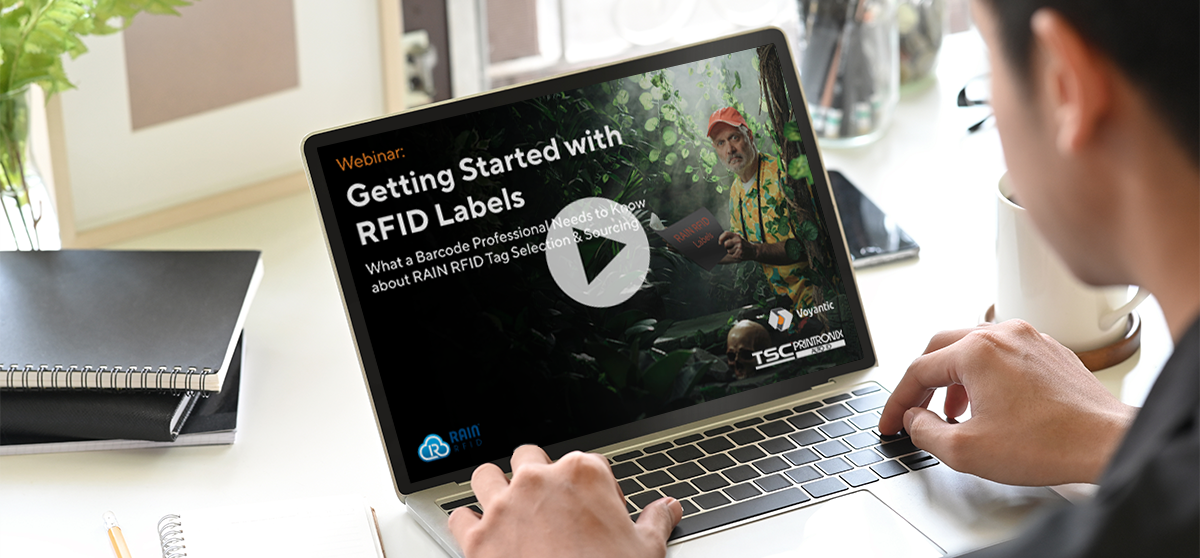 TSC Printronix Auto ID recently joined Voyantic on a webinar to help barcode professionals better understand RAIN RFID tag selection and sourcing.
In part three of the webinar series with partner and RFID testing equipment company Voyantic we covered, "What a Barcode Professional Needs to Know about RAIN RFID Tag Selection and Sourcing." Held on February 10, it covered the most important considerations, such as label specifications, supplier selection, delivery format, handling, and other issues.
This series was designed to help make the complex systems of RFID easier to understand. By gathering experts in the field and breaking things down into more digestible content, we've found professionals around the world are responding well to these webinars.
Our blog recaps of parts one and two go more in detail about the past webinars in this series, so be sure to check those out along with the webinars on-demand if you missed them. These webinars are meant to help you "navigate the jungle" by diving first into the basics and growing more involved as the series goes on.
In the first part, we primarily focused on:
How RAIN RFID works
RAIN RFID data terminology
Structure of a RAIN RFID tag
RAIN RFID tag data standards
The second part went over these topics:
How are RAIN labels created: The manufacturing process overview
Encoding equipment types
The RFID encoding process: What are the options?
Security: Setting passwords, locking, digital signatures
Handling of failed tags
Where a RAIN RFID printer excels
Which tag data standard to use
RAIN label sourcing
For this third part, we understand that getting started can feel overwhelming with the abundance of options and suppliers out there, so we covered the following:
Label specifications
Label sourcing - what to ask from the suppliers
Delivery formats
Incoming inspection
Label handling
Longer-term considerations

Replacing obsolete products
Switching to newer products
Scaling production volumes
Label Specifications for Non-RFID
The webinars have been co-hosted by our RFID Subject Matter Expert, Chris Brown, who covered many features relating to non-RFID label specifications, such as dimensions, face stock material, adhesive, formats, "wind," roll inner diameter (ID) or outer diameter (OD), and black mark or gap. We also covered the RFID questions you should be working through before purchasing RFID labels:
Chip memory: How much memory is needed? What are you encoding?
Chip features: Are any special features needed? This includes items such as high-security, sensor, durability, and whole-tag Permalock.
Inlay selections: Which inlay(s) will do the job?
Inlay placement: Where does the inlay need to be placed? What printer brand and model do you have?
Sample rolls: Are you testing before placing a large purchase order?
RF performance: How is the tagged item going to be read? From what distance? At what angle?
When specifying label details, it can be vital to consider the region as well. Since slightly different frequencies are used depending on the region, you should ensure that the specifications align with the country's items, readers, and tags.
Set Your Business Up for the Long Run
When investing in newer products and technologies for your business, you are creating a longer-term consideration for your customer base as well. Obsolete products can hinder your production, especially if newer products are available that would save time and money on the backend. Our discussion on tagged item grading systems and their practices goes more in-depth on how certain products can improve communication, reflect global standards, and even be verified and tested by anyone.
RF labels are often used to tag items in mass manufacturing, but it's important to keep in mind that labels that look exactly the same may have a different performance. Take note of acceptable variation and specification of the quality. Analyzing the given data will help you determine which labels will work best for you and your applications.
Helping Barcode Professionals Implement RFID
Our dedication to the barcode label printer space and showcasing the best technologies is aimed to help barcode professionals. We believe in RFID for the future and creating a better understanding of how to work with this technology. By ensuring that our customers stay informed with webinars, guides, and blog posts such as these, we aim to make the process easier and more streamlined for you.
Our goal is to make RFID tag selection and sourcing much easier for you. If we can help, please don't hesitate to reach out to us and schedule a consultation.