Why Power Up Your Print and Apply System for Label Automation?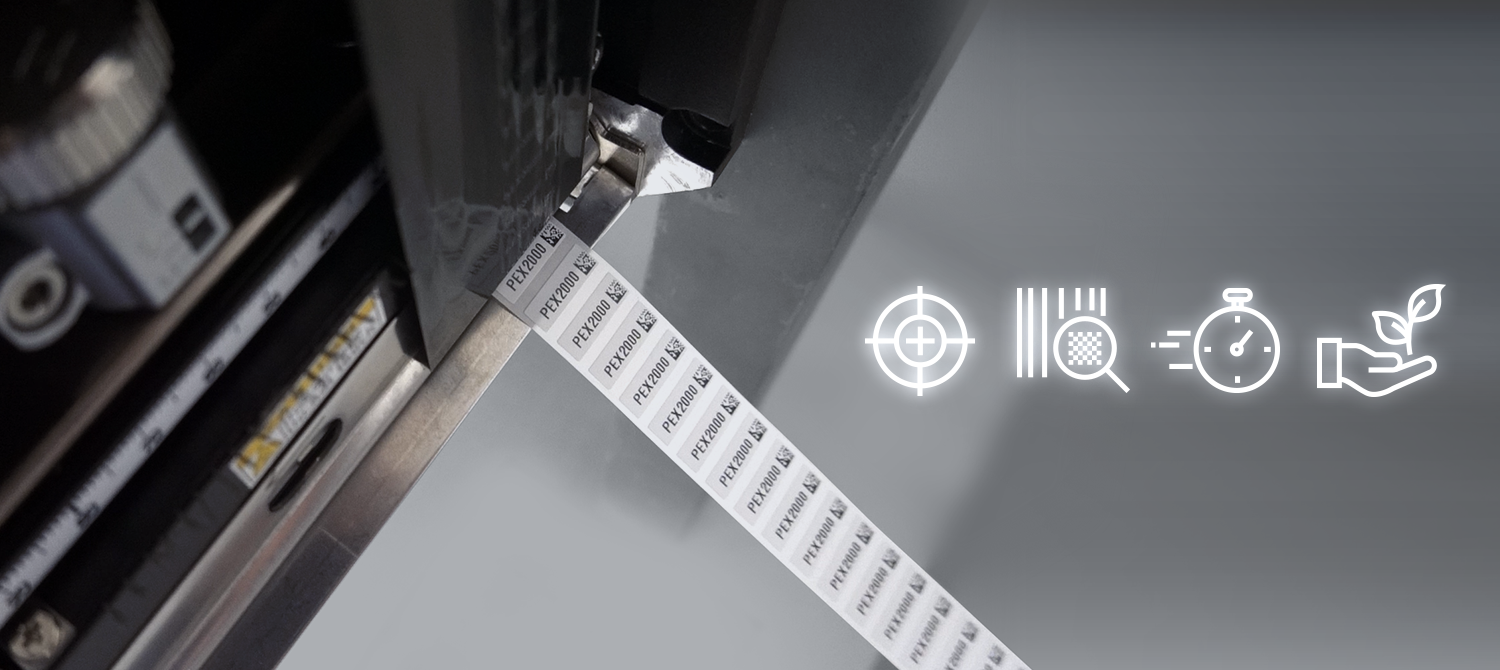 4 Remarkable Features of the 4-Inch PEX-2000 Print Engine You Should Know About
Rising demand for automation and complex labeling applications has made automatic labeling grow in importance across various industries. Increasing customization, labeling requirements, and technological advances have led many businesses to search for solutions that help them cope with these growing demands while improving productivity and efficiency.
Automated print and apply systems are now widely used in high-volume applications. The 4-inch label size is commonly used for 4-inch by 6-inch shipping labels, high-resolution markings, electronics labels, and more. We also see the increased use of item-level RFID tagging in fashion, smaller labels used in electronics, surging demand in e-commerce, and the rise of environmental awareness across industries.
How can you upgrade your print and apply systems to accommodate growing complexity and reduce environmental impact? TSC Printronix Auto ID makes it easy for you.
Simplify Automatic Labeling Applications with Ultimate Performance
Our PEX-2000 Print Engine is designed for diverse applications, automating labeling in the logistics, manufacturing, pharmaceutical, and food and beverage sectors. This print engine integrates easily with any label applicator, guaranteeing compatibility, reliability, and versatility. The 4-inch PEX-2000 Print Engine has numerous advanced features tailored to specific applications and removes integration headaches.
High imprint accuracy for small labels: With printing deviation within ±0.4mm, the 4-inch PEX-2000 Print Engine is ideal for electronic component and pharmaceutical label printing. Its 600 dpi resolution and support for a minimum 5mm label length make it suitable for small-size label printing without compromising quality.
Industry-leading print speed delivers fast one-cycle performance: The 4-inch PEX-2000 print speed is up to 18 inches per second (ips) and can complete a 4-inch by 2.5-inch label in 0.56 seconds per cycle.
Automated RFID tagging to realize smart track and trace: The optional RFID encoding module supports emerging applications, such as item-level RFID tagging in apparel or food. Long-distance back-feed also enables overstriking bad RFID labels.
Patented ribbon saver prevents waste while saving costs: The ribbon saving function allows fewer ribbons to be used and more labels to be printed while reducing environmental waste. It works well with pre-printed labels, especially when special color ribbons, such as gold or silver, are used. Our patented ribbon saver's advanced, stable design ensures print quality.
PEX-2000 Specifications
Model

PEX-2000 4-inch

PEX-2000 6-inch

Media Width
16-118mm (0.63"-4.65")
50.8-180mm (2.0"-7.1")
Resolution (dpi)
203, 300, 600
203, 300
Max. Print Speed
18 ips
14 ips
Min. Label Length (peel-off)
5mm
25.4mm
Display Color
Color
Color
Top Black Mark Sensor
Yes
Yes
Applicator Interface
DB15
DB15
Optional Features

Ribbon saver
RFID
Wi-Fi + Bluetooth combo module
GPIO (DB25F)
Internal Bluetooth

Ribbon saver
RFID
Wi-Fi + Bluetooth combo module
GPIO (DB25F)
Internal Bluetooth

Printer Management Tools
SOTI Connect, TSC Console
SOTI Connect, TSC Console
We understand that building and integrating a print and apply system is complex. That's why we designed a single print engine with remarkable features to simplify your upgrade. Our PEX-2000 Print Engines are purpose-built to simplify your integration while fulfilling the increasing complexity of applications. Its robust design can withstand harsh environments and ensure performance for years to come.
To power up your print and apply system with our best print engine, please visit our website to learn how we can boost your automation.