Control Costs in Your Warehouse with Automated Barcode Inspection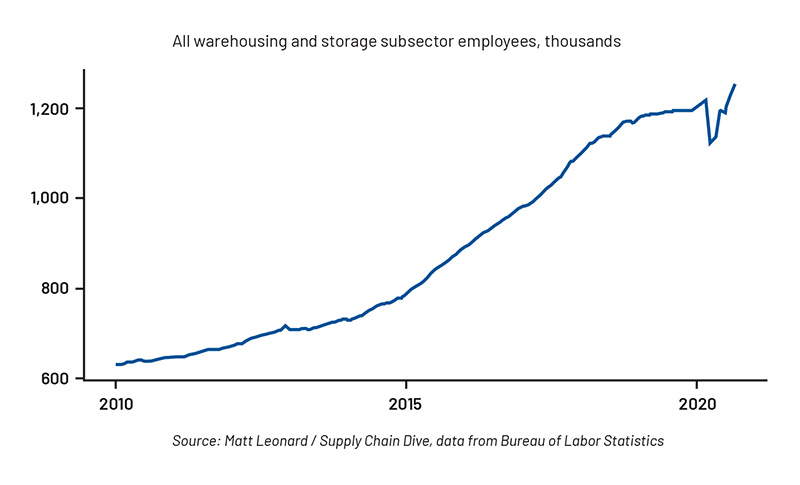 As the retail industry, manufacturing, and online shopping continue to grow, so do the number of warehouses and the number of employees in each warehouse. This translates into an explosion of warehouse jobs. The demand for workers continues to outstrip supply and warehouse managers are increasingly turning to automation and technology to continue to meet production schedules.
This results in the increased use of robotics to direct pallets to the right place. As supply chain pressure grows, demand for rapid processing is critical. If an incoming shipment's barcode label can't be ready easily, it hinders productivity for the warehouse. The slowdown is often passed along to suppliers in the form of chargebacks.
Keep reading to learn about the challenges facing warehouses, and how our automated barcode label verification and validation system can help suppliers reduce chargebacks amidst the rapid expansion of warehouses.
Bad Barcodes Hinder Warehouse Productivity
The explosion in warehouses means there has never been greater urgency to provide complete, accurate, and readable information on barcode labels. Robots don't read text, so increasingly critical information is being encoded in 2D barcodes that pass tremendous amounts of information very rapidly. Unreadable labels can cause havoc and slow down productivity in busy warehouse environments.
A label with a barcode that is difficult to read shuts down the robotic transport. An unreadable barcode may require additional time for a human operator to copy down the correct information and type it into a keypad as a manual backup workaround. Either situation—a stopped robot or a person manually entering data—hinders productivity in an environment where efficiency is essential, and at a time when any impact to the supply chain has massive ripple effects.
The manufacturer sending pallets of goods to a warehouse controls, and is responsible for, the quality of the information on the barcode label. The receiving warehouse, however, can and does incentivize the manufacturer to inspect their labels by sharing the pain of an unacceptable label in the form of fines.
Barcodes below the acceptable grade may be charged a punitive fee, the shipment returned, or the supply contract cancelled. Warehouses that are feeling the pinch of labor shortages can  demonstrate displeasure at the additional workload caused by a bad label in a very direct monetary way.
Automate Inspection of All Barcode Labels
Suppliers have an incentive to inspect their labels to ensure quality and reduce their risk of chargeback fines. There is both the obvious financial incentive to avoid steep fines and an obligation to support efficient processing for the supply chain. While so much of the supply chain is beyond a supplier's control, ensuring barcode labels are graded and inspected to requirements is something suppliers can act on and have a direct impact on downstream productivity.
By deploying our enterprise-grade industrial ODV-2D barcode verification and validation printers, suppliers are able to inspect every single barcode automatically. Because the barcode inspection system is integrated within the printer's footprint, there is no need for additional templates, servers, software, separate devices, or modifications to your printers.
These printers locate and grade every barcode on every label for every job without requiring an operator's intervention. This helps to ensure barcode quality, reducing the likelihood of your shipment slowing production for your downstream customers and your risk of chargebacks.
Label inspection can be easy with the TSC Printronix Auto ID ODV-2D system. Simply print a label, that's it! If an unacceptable barcode is found, the label is automatically retracted, overstruck, and a new one is printed without operator intervention.
Our integrated systems make barcode inspection easy and affordable. Additionally, reporting capabilities make it possible to provide proof of compliant barcode labels with every shipment.
Affordable Investment, Better Barcode Inspection
There is a common misconception that barcode verification and validation is complicated and expensive. This is not the case with TSC Printronix Auto ID's barcode verification printers. Our barcode inspection system is extremely cost effective, typically paying for itself in the reduction of chargebacks, and continuing to generate these savings for the life of the product. This makes investing in our integrated barcode inspection printers one of the easiest and most rewarding decisions for your business.
Contact your local TSC Printronix Auto ID representative to learn more about our barcode inspection printers.