Enterprise Organizations Trust Our Robust T8000 Industrial Thermal Printer to Deliver High Performance and Quality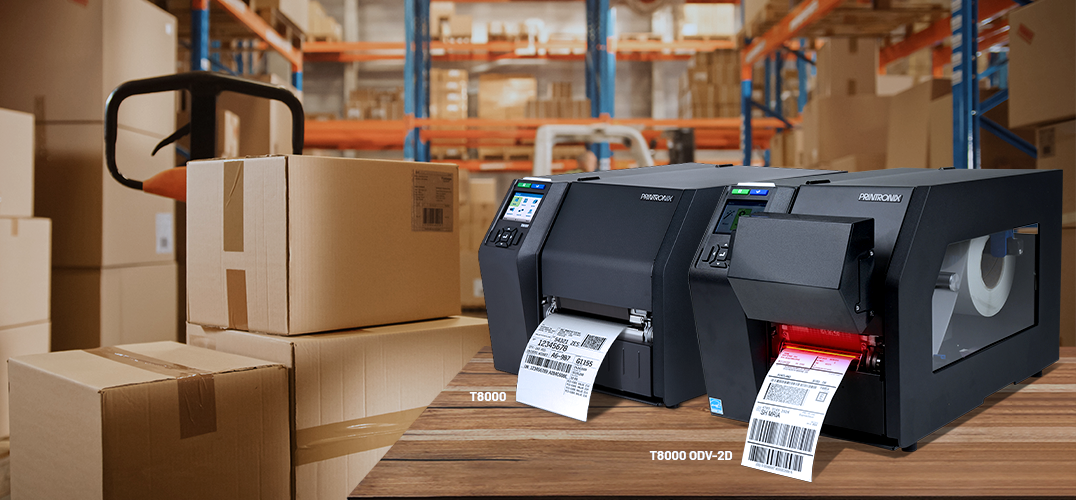 Our flagship T8000 enterprise industrial thermal printer is a super-reliable, high performance printer trusted by large and mid-size global enterprise organizations. This robust thermal printer delivers performance and adaptability in high volume environments while offering complete advanced features such as barcode inspection for 1D and 2D barcodes to ensure 100% label accuracy every time.
The T8000 supports productivity and uptime with its capability to print more than 15,000 labels per day to meet the most demanding printing applications. It also offers outstanding reliability based on the engineering design and component quality used, augmented by the rigorous ODV-2D barcode inspection quality check. In the case of barcode failure, the label is automatically replaced with a good one, eliminating manual intervention.  
Continue reading to learn why enterprise organizations across the globe trust our T8000 thermal printer to deliver.
High Reliability and Verified Quality
The T8000 has an all-metal construction designed to withstand harsh environments and is capable of printing in sub-zero temperatures (-5 to +40 degrees Celsius) without heated enclosures. It delivers accuracy 24/7 for mission critical operations and has been tested to meet more than 20,000 hours for mean time between failure (MTBF).
The printer uses our available ODV-2D barcode inspection system to produce accurate barcodes every time, helping organizations reduce fines and chargebacks. It's a fully integrated solution that can retract, void, and reprint labels automatically, saving time and costs over manual barcode correction. By automatically overstriking all barcode labels that do not meet the required grade level, it assures you will only supply items with high quality, readable barcode labels.
The T8000 also offers outstanding versatility and adaptability:
Easily integrates into nearly all enterprise ERP and warehouse environments
Supports all major printer languages
Offers the latest Ethernet and 802.11a/b/g/n/ac Wi-Fi, along with support for enterprise security protocols
The T8000 printer is available in 4-inch, 6-inch, and 8-inch models to meet a wide range of application needs.
Remotely Manage Your T8000 Printers
You can manage your T8000 printers remotely using PrintNet Enterprise software or SOTI Connect. Both tools enable you to centrally manage, organize, and maintain printer fleets that are housed across multiple global locations. They also allow you to establish rule-based alerts and data capture to maximize uptime. You can receive notification alerts via email or text.
T8000 Enterprise Industrial Printer: Quality, Performance, Reliability
The T8000 printer offers enterprise organizations a trustworthy, high performance thermal printer that is built to last and optimize your productivity.
To find out more about the T8000 enterprise printer, visit tscprinters.com or contact your local TSC Printronix Auto ID sales representative.