How Our Versatile ODV-2D Barcode Inspection Printers Elevate Your Business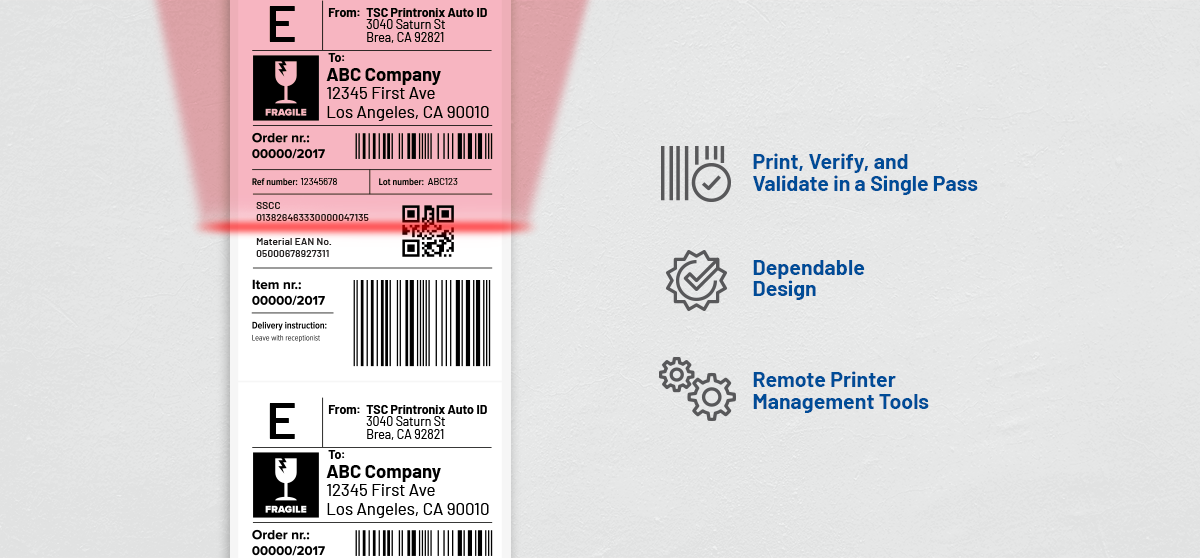 Finding the right printer for your business needs can sometimes feel overwhelming. During your search, you may ask yourself questions like: Will it have all the right functions to ensure high quality labels? Can it do everything efficiently and accurately? Is the software up to date and user-friendly?
Luckily, our ODV-2D Enterprise Industrial Printers with barcode verification and validation capabilities have plenty of features to deliver high quality label inspection of 1D and 2D barcodes. The T8000 Series 4-inch or 6-inch and the T6000e Series 4-inch Enterprise Industrial ODV-2D Printers present robust, high performance capabilities for quality, productivity, and accuracy.
Let's explore more about the versatility of these enterprise-grade printers and the broad range of features that can benefit your business.
Integrated Barcode Inspection Systems
One of TSC Printronix Auto ID's unique offerings is our integrated barcode inspection system. The system enables automated label correction during the printing process which ends up saving time, money, and your brand reputation. If you're looking for a printer that aids in compliance, quality, and efficiency, we have two different models with the integrated barcode verification and validation feature.
T6000e Series 4-Inch Enterprise Industrial ODV-2D Printers
The award-winning T6000e Enterprise Industrial Printer offers top-of-the-line ODV-2D barcode verification technology to overstrike and correctly reprint 1D and 2D barcodes that were not printed clearly across multiple resolutions. It is the first printer system to grade barcodes to ISO 15415,15416 and 15426 standards and store a detailed report of each transaction. Our exclusive technology reads each barcode, identifies a rejected barcode, and reprints a replacement label automatically without operator intervention. Plus, it is equipped with RFID capabilities that set it apart from other printers, making it truly unique.
T8000 Series 4-Inch or 6-Inch Enterprise Industrial ODV-2D Printers
Our most versatile 24/7/365 printer with 4-inch or 6-inch print width, the T8000 Enterprise Industrial Printer Series features a color display and multi-connectivity capabilities with optional ODV-2D inline barcode verifier technology. Our ODV-2D inspection system is the industry's first affordable, fully integrated solution with the ability to print, verify, and validate 1D and 2D barcodes during the printing process. Built on the robust T8000 printer platform, these printers include a built-in data validator that grades barcodes to ISO standards and stores a detailed report of each transaction. Our exclusive technology reads each barcode, overstrikes the entire label of a rejected barcode, and reprints a new label.
Remote Printer Management Tools
Now that you have a better understanding of the features of our barcode inspection printers, we'd like to present additional tools that enhance printer management efficiency. If you're looking for flexible management of your global printer fleet, we also have remote printer management tools available. Let's take a look at SOTI Connect and PrintNet Enterprise, and how these can support your business.
SOTI Connect addresses key printer management challenges with remote support features such as:
Remote firmware updates to enable instant installation of the latest and greatest features
Remote printer configurations and settings adjustments to ensure print consistency and quality across a fleet of printers
Remote support features provide access to printer endpoints and allow organizations to perform actions to troubleshoot and remediate issues
Automation rules to automatically issue alerts and actions when pre-defined conditions are met, reducing unexpected printer downtime and workflow disruptions
Advanced data collection (such as battery level to operating temperature) provides around-the-clock analysis of valuable printer status information to ensure printers perform reliably
With the PrintNet Enterprise remote printer management utility, you can easily organize and remotely monitor a single printer or an entire fleet of printers from any networked computer from a single dashboard.
Centrally manage, organize, and control Printronix Auto ID printers remotely on a LAN/WAN
Maximize uptime with instant alerts on printer issues via email or text message
Utilize remote front-panel lockout to prevent unauthorized users from making unwanted printer configuration changes
Remotely download configurations, firmware updates, and resource files to groups of printers simultaneously
Upward compatibility to support and manage the entire Printronix Auto ID family of printers in a fast-expanding network
QR codes link buyers and sellers, enabling a conversation about a variety of specific product information. They provide an inexpensive way for manufacturers to place relevant data on their products and packages before they arrive at a retailer or distributor. Using our enterprise printers, you can print QR codes on-demand, in house, with high quality label validation.
Printing QR codes with the T6000e and T8000 printer models provide you an inexpensive and easy-to-print option to contain product serial numbers, model, family, class, FCC certification, and other product specifications. Or you can print QR codes that link to a website that outlines product setup instructions or connects buyers to product registration pages.
Powerhouse Quality and Versatility  
Looking at the versatile features and functionality of the T6000e and T8000 Enterprise Industrial Printers, it's easy to see how beneficial they can be in advancing your business. Especially when paired with remote printer management solutions, SOTI Connect or PrintNet Enterprise, and optional QR codes and RFID tag printing, these enterprise-grade printers offer unique capabilities to help your business productivity.
To learn more about the T6000e and T8000 Enterprise Industrial Printers, contact your local TSC Printronix Auto ID sales representative or visit our website.