Must-Have Accessories to Enhance Your Thermal Printers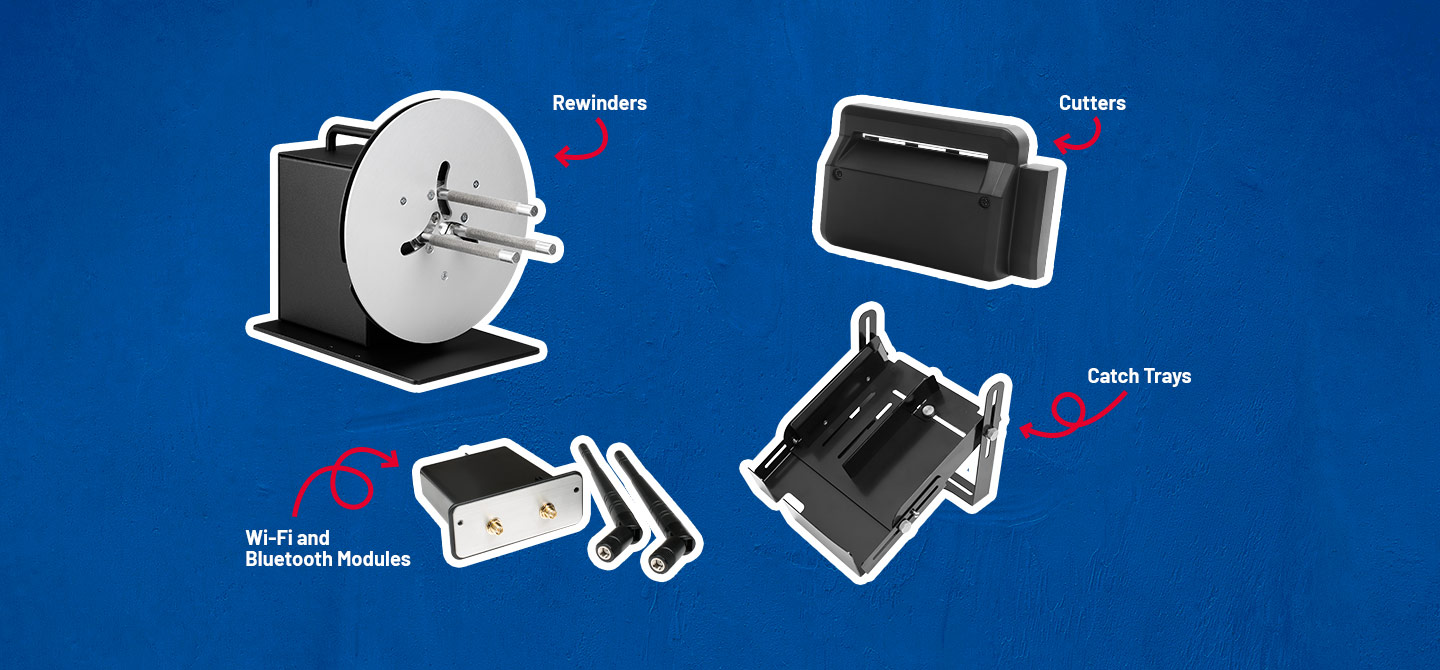 Our printers go beyond out-of-the-box features. We offer custom-tailored solutions to expand your application needs with a bevy of powerhouse accessories.
These accessories prepare your workforce for success, bringing complementary features that enhance your printer and increase operational efficiencies. From cutters and peelers to streamline your labeling process to internal rewinders to keep you moving at top speed—plus Wi-Fi and Bluetooth® modules for advanced connectivity wherever you need it—we have customized add-ons to improve your labeling experience. Our Late Point teams across the globe are driven by excellence in customer support and help configure printers to the unique specifications that meet your needs.
Streamline Labeling with Peelers
From an operator setup perspective, they put the roll of labels in the machine and go. The less action they need to take to support smooth operations, the better. For example, a printed 4x6 shipping label is torn off the front of the printer, the backing is manually peeled off, and the label is placed on a carton. If the operator peels the backing off every label, the process becomes sluggish and tedious, reducing productivity.
Customized peeler add-ons can eliminate this challenge. Peelers enable the printer to automatically peel the label off its backing, presenting the operator with just the adhesive label. It rewinds the backing strip back into the machine for maximum efficiency—no more operator intervention required! The printer handles the task of peeling the backing, helping to streamline printing operations.
Keep Moving with Cutters, Catch Trays, and Rewinders
Catch trays, cutters, and rewinders can make all the difference to enhance the printing process.
For example, if you are printing name tags for an event or trade show using the cardstock name tags: You could perforate the name tags and tear them off the printer, but that could risk ripping a name tag by accident. That's where our customized cutters come in. With a tailored cutter, it automatically cuts the name tag (or label) once it has finished printing.
Our thermal printer paired with a heavy-duty cutter is the perfect solution for a variety of materials, especially textiles to speed up their printing process. Our advantage enables them to auto-cut the labels during batch printing, which significantly improves the throughput of the whole printing process.
Pairing a cutter with a catch tray will prevent the item (label or name tag) from fluttering to the floor in a disorganized pile. The catch tray will catch the item and keep it nice and neat for when you are ready to apply them.
High-volume applications can achieve great benefits with rewinders. Many fast-paced industries choose to pre-print a large number of labels. This can be done by a Service Bureau or in-house for quality control or operational efficiency. Our rewinders are integrated with our thermal printers with the ability to auto-sync to the printer's speed. The result is a more well-organized and streamlined printing process.
Advanced Connectivity Anywhere: Wi-Fi and Bluetooth® Modules
Printers get placed in interesting locations to accommodate workflows. While most locations will have access to power, connecting them via cables can pose a challenge. Is it feasible to run an extended string of coaxial or USB cables across a shop floor to the location in shipping and receiving that needs close proximity to the printer? Often it is not convenient and cables running across a shop floor can pose a safety risk as well. 
We provide options that plug an Ethernet connector into the back of a printer to connect with central communications via Ethernet cabling. Cutting the cable altogether and going wireless provides even greater flexibility for printer performance and placement. Move the printer around as needed with our Wi-Fi and Bluetooth® connectivity modules. Wi-Fi and Bluetooth®-enabled printing improve the possibilities for printer connection in your workspace and on your network.
We have an extensive offering of printer add-ons and accessories to make your thermal printer work for you. Reach out to your local TSC Printronix Auto ID representative to learn more, or inquire online.