New Website — TSCPrinters.com — Centralizes Resources About TSC Printers, Printronix Auto ID Printers, and Genuine Supplies In a Single Touchpoint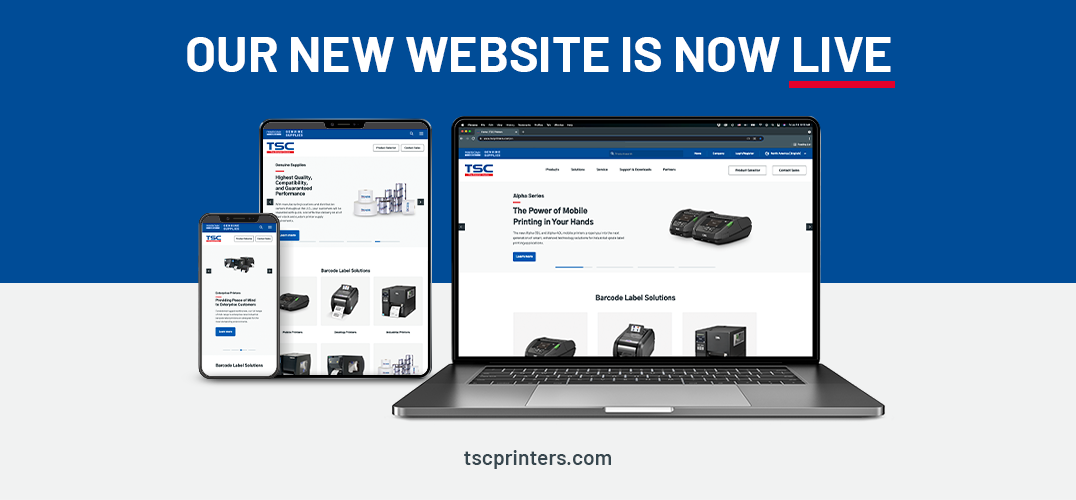 We've launched our new website, TSCPrinters.com, which unifies TSC products, Printronix Auto ID printers, and our TSC Printronix Auto ID Genuine Supplies under one centralized website. Customers of each product line will now find that all the product offerings are easy to find and access on our enhanced website. Packed with advanced features designed to support customers, it includes new feature-rich tools such as the upgraded Product Selector, a dedicated Partner Portal, and better visibility into the full range of our software and service offerings. All products are combined into a single website, with customizations across six regions: U.S. and Canada, Latin America, Europe, the Middle East and Africa, Asia Pacific, India and China.
"Streamlining our two printer lines — TSC and Printronix Auto ID — alongside our Genuine Supplies, enables customers to access our comprehensive portfolio more easily from one centralized website to support their needs and inquiries. Helping customers effortlessly find and research the full breadth of our solutions is bolstered by regional customizations and functional tools," noted Manny Gonzalez, TSC Printronix Auto ID's Global Brand Manager.
This website was developed to improve the user experience, helping customers find solutions that can support their specific application needs, tailored specifically for each region. Keep reading to learn more about new features on the improved website, designed to support you.
Enhanced Product Selector: Search by Application
The Product Selector on our new website is an improvement upon the previous tool you may have used. The new tool offers an application-first approach, meaning you can search based on your project needs and processes you are working to fulfill.
It allows you to find solutions based on label application, such as small print, shipping labels, RFID standard labels, and more. Additional options encompass printer type, print volume, advanced functionality such as RFID and barcode inspection, all the way to hardware specifications. You can also search based on your preferences, whether you're seeking a budget-friendly or large deployment solution, as examples.
The product selector tool provides:
A simplified method to search and find products on our website
Easy side-by-side comparison of different products
A functional way to share your search criteria via email to colleagues, customers, and end users
Exclusive Access on the Partner Portal, Plus Resources for End Users
Authorized TSC and Printronix Auto ID partners can now gain access to exclusive content, resources, and assets from our website's Partner Portal. This is one way we are showing our commitment to partners, with selected resources prepared to help you meet day to day challenges in your business, and help you deliver solutions to your customers.
You'll also be happy to know we simplified the process for end users. Now customers and end users can go to the Support & Downloads section of the website to find and download resources that used to require a login to access.
Easily Find and View All We Have to Offer
The enhanced website enables us to better present our full range of solutions to you, helping you to find and select the products that support your daily business needs.
TSCPrinters.com consolidates our three product lines under one roof. From integrated barcode inspection systems in our Printronix Auto ID enterprise printer line to TSC mobile printers created for all-day performance, and our wide range of media solutions available through Genuine Supplies, we offer this and so much more to help you meet the demands of today's marketplace.
Visit the new website today and try out our new tools at TSCPrinters.com. To learn more or for help selecting the right printer or label for your next project, contact us online.