How TSC Performance Mobile Printers Boost Productivity and Performance in the Field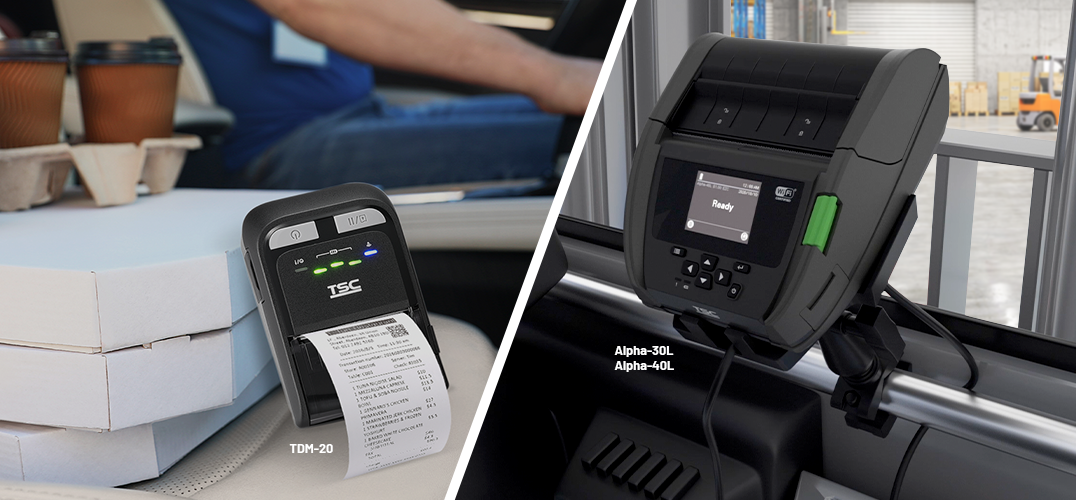 Are you looking for a rugged and reliable mobile printer that is powerful on-the-go and designed for 24/7 performance? Our broad lineup of mobile printers offers this and much more. Available in seven portable models with options for 2-inch, 3-inch and 4-inch label printing, these printers are design to support your mobile, hands-free productivity.
Using our mobile printers, you can print receipts and labels on-demand, simplifying direct store deliveries (DSD), route delivery, distribution, retail processes, and more. These lightweight mobile printers have a long battery life for maximum efficiency. And our mobile printers are capable of printing linerless labels that help reduce waste and boost productivity. A full line of accessories is also available.
Read on to learn more about our mobile printing solutions.
Efficient Direct Store Delivery (DSD) with Mobile Printers
Direct Store Delivery (DSD) involves delivering products from a supplier or distributor directly to a store, bypassing the retailer's distribution center. Mobile printers offer an effective solution for food/ beverage and other suppliers to provide DSD. Using a barcode label printer to print in the field offers an efficient product tracking system for the receiving store and the supplier.
For route deliveries, drivers can print receipts and invoices on demand at the delivery site. The store can more quickly track real-time inventory and costs. Mobile printing facilitates easier transactions for both parties.
Mobile Printer Demand Grows in Response to Delivery Culture
Mobile printers are one of the fastest growing categories of thermal label printing for a reason. The growth of delivery culture and the expansion of Ecommerce, especially during 2020, is driving the popularity and use of mobile printers.
Consumers are more comfortable receiving home deliveries, not only from restaurants, but also from farmers and grocers directly. Meal preparation kits have also grown in popularity, increasing the amount of critical, perishable items shipped direct to consumers. The use of high-quality mobile printers for receipts and labels can support this fast-paced delivery culture.
Rugged, Portable, and Lightweight Mobile Printers
Our mobile thermal printers are lightweight and designed to be comfortably worn for an entire day of activity.
The TSC Alpha-30L and Alpha-40L performance mobile barcode printers are designed for warehouse and fulfillment, healthcare, retail, shipping and logistics. They include linerless printing options and a range of accessories such as belt clips for individual wear and equipment mounts for group access on forklifts.
When we say the Alpha-30L and Alpha-40L are rugged and built to last, we mean it. These printers were created to meet military-grade standards for drop and vehicle vibration. Both models have been rigorously tested to withstand a 1.0 m (3.28 ft) tumble and 1.8 m (5.9 feet) drop. Protective cases are available for ruggedness level with a 2.5 m (8.2 feet) drop.
This printer line also features:
A range of Bluetooth and Wi-Fi connectivity options to streamline productivity on-the-go
IP54-rating to resist dust and water and continue printing after enduring a 6-foot fall
Smart battery management to report the state of battery capacity, charge, and the history of charge cycles
Compatibility with remote printer software SOTI Connect for real-time configuration and management of printer fleets
The Alpha Series mobile printers also feature TSC Sense Care that allows the printer to detect printhead bad dots during printing so users can quickly resolve these issues.
TDM Series Mobile Printer for Receipt Printing
Our TDM Series mobile printers are palm-sized, easy to carry, and well-equipped for citation applications as well as mobile receipt printing. These printers are lightweight with a flexible design that is well-suited for retail and mobile point of sale (MPOS) applications.
This series features multiple Bluetooth and Wi-Fi connection capabilities, smart battery management, and supports printing with various media widths.
Discover our full range of mobile barcode printers online.