Proliferation of E-Commerce and Direct Store Delivery Fuels Mobile Printer Demand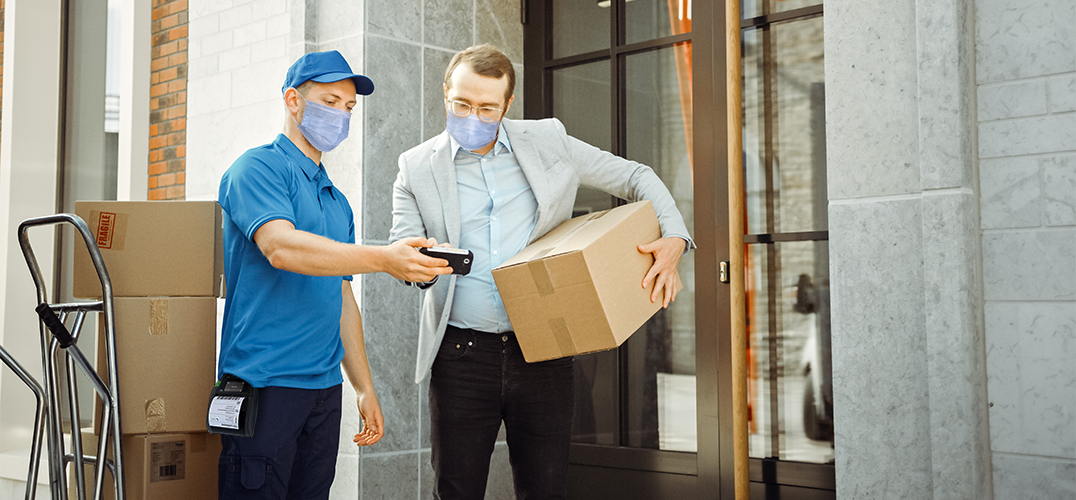 Mobile printers have been the fastest growing segment of on-demand thermal label printing for the past decade. Mobile printer use is growing in the retail, logistics and Direct Store Delivery fields. This trend was fueled by the global pandemic which accelerated e-commerce activity and direct home deliveries, subsequently fueling demand for mobile printing solutions.
Read our full blog to learn more about the explosion of deliveries and how high quality, on-demand mobile printing can help.
Proliferation of E-Commerce and Direct Store Delivery Amplify the Need for Mobile Printing Solutions
Global retail e-commerce sales grew by more than 25 percent during 2020, and the shift seems to be here to stay. Consumers have embraced online shopping and curbside pickup, and grown more comfortable with home delivery. Ecommerce and the growth of delivery culture has fueled demand for mobile networked labeling infrastructure. Home delivery services from restaurants, grocers, farms, and retailers all benefit by using mobile printers that offer high quality, on-demand labels and receipts.
FoodLogistics.com noted that the "most significant growth stems from grocers, farms and food hubs; meal prep and meal kit companies; and businesses delivering bottled beverages like water, cold-pressed juices, wine and beer." These growing avenues of direct-to-consumer delivery services can improve the experience by providing detailed labels and receipts onsite at time of delivery using a mobile printer.
Traditional Direct Store Delivery (DSD) to grocers and retailers can also benefit from mobile printing solutions. Delivery drivers can generate on-demand printed invoices and receipts, and employees onsite can immediately sign and receive shipments and records.
Optimize Productivity with Our Rugged Mobile Printers
To support the expansion of DSD, direct-to-consumer and other home deliveries, our rugged mobile printers are built for portability and enhanced with long battery life for all-day performance. The TSC Alpha-30L and Alpha-40L mobile barcode printers are equipped with extensive communication options, including Wi-Fi and Bluetooth, to ensure performance in the field while communicating with a variety of devices on-the-go.
You can seamlessly manage these printers using SOTI Connect for remote access, Smart Battery features, and more. SOTI Connect delivers advanced features for mobile printing to boost productivity, keeping your operations running with heightened visibility into critical device status.
Smart Battery Technology: Provides vital battery health data and charge cycle history with visibility into activity levels and performance.
Bad Dot Detection: Delivers instant notifications for early identification and resolution of bad dots that cause unreadable barcodes, supporting optimum performance.
The Alpha mobile printer series is also equipped with sophisticated TSC Sense Care to enable the printer to auto scan and detect printhead bad dots during printing so users can respond quickly and efficiently. TSC Sense Care also monitors the smart battery to ensure full shift productivity to reduce the total cost of ownership and prevent costly downtime.
Mobile Printer Accessories to Facilitate Ease of Use
We offer a variety of mobile printer accessories such as shoulder straps and belt clips that optimize performance in a diverse set of applications.
Printers can be mounted onto forklifts or other machinery for ease of use in group access points. A wide array of docking stations, battery charger bays and battery replacements, plus vehicle mounts and cradles support hands-free mobility and high performance printer capabilities for diverse labeling needs.
Print from Anywhere with Our Mobile On-Demand Printers
Our mobile printer solutions enable you to print from anywhere and are enhanced with smart features such as battery health data and bad dot detection to support remote printer management. Using the latest Wi-Fi and Bluetooth technology, these printers are designed for seamless mobile communication.
Our wide range of mobile printers offer you everything from on-demand label and invoice printing on-demand with our Alpha-30L and Alpha-40L printers, to mobile receipt printing with our TDM Series.
Discover the range of TSC mobile barcode printers online. To explore the best mobile printers for your needs, contact your local representative or visit us online here.