Our Versatile MB Series Light Industrial Printers Offer Cost-Effective Performance Thermal Printing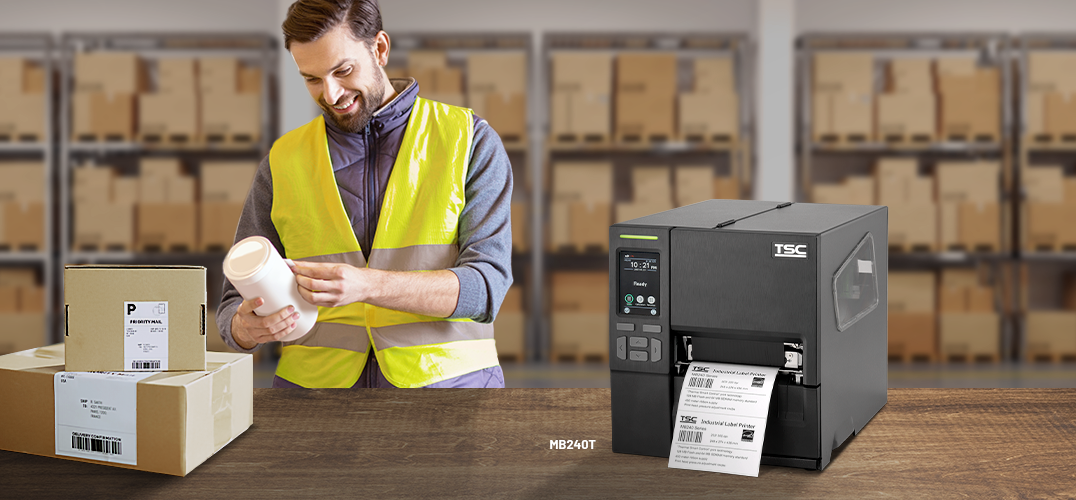 Our MB Series 4-inch light industrial printers are fast becoming one of our most popular printer series. Why? Because these thermal label printers are value leaders for 4-inch-wide light industrial label printing, offering thermal print performance in a compact, affordable piece of equipment.
These versatile and small footprint MB Series industrial printers are installed in many busy and occupied office spaces, manufacturing and logistics facilities, and retail shops. We took tremendous effort to design this printer to be as quiet as possible to prevent distractions or disruptive noise when printing. This was a challenge as thermal printers by nature exude motor sounds plus the ribbon makes noise when transferring ink to the label as the label peels away. Our engineers carefully selected the MB Series motors and gears to work together as silently as possible while printing high quality thermal labels.
Keep reading to explore the many reasons why our versatile MB Series thermal printers are gaining in popularity.     
MB Series Value: Durable Printer Performance with Enhanced Usability
The MB Series features a small footprint, easy to-use interface, and a full set of options to meet nearly every printing application. While it was designed to offer quiet, compact printing with fast label throughput, it's also built for durability. The printer's all-metal construction and die-cast aluminum print mechanism engine is robust and will withstand the toughest production environments for years of steady performance. This series also boots up very quick after it's powered on.
The MB240T industrial printer comes with an easy to use, high-contrast 3.5-inch color touch LCD panel with 6 buttons. Customers rave about the menu structures and color touch displays as intuitive and easy to use. And common tasks such as label calibration are simply one touch away. Menus can be customized to bring frequently used tasks to the front screen for faster, less complicated operation.
Entry Level Value with Complex Thermal Printer Features
The small, entry level MB240T industrial printer surprises with a range of features found in larger, more complex thermal printers.
Optional Peel and Present with Internal Rewind functionality peels the label as it exits the printer and waits for the user to take the label until printing the next label. The backing waste is conveniently taken up inside the printer on an internal rewinder.
Advanced communication and interface capabilities with the optional General Purpose Input/Output (GPIO) connector
Easily installed Wi-Fi with Bluetooth plus connections via other interfaces including Ethernet, USB, USB-Host, and Serial RS232
Cutter options to enhance performance while maintaining space
For customers seeking to build a print module to install in kiosks or applicator systems, we offer the MB Series Print Module. The MB Series Print Module is designed for light industry printing with a die-cast aluminum print mechanism to handle tough production environments. Its compact design is a perfect fit for tight workspaces, and it produces fast label throughput available in two printer models — the MB240 (203 dpi printing up to 10 ips) and the MB340 Module (300 dpi printing up to 7 ips).
Easy Configuration and Adaptable for Many Environments
This printer series is highly adaptable for a wide range of environments, with numerous user-friendly technology and support features, and offers easy configuration. MB Series printers feature our Thermal Smart Control printhead technology to provide precisely accurate, crisp, and clear labels every time, whether you are printing one label at a time or thousands in a batch. And they are equipped with our TSPL-EZD firmware that is easy to set up and use in many IT environments. The DiagTool configuration software simplifies the process to replace existing printers with a durable MB Series printer.
Find the best MB Series 4-inch compact light industrial printer for your application on our website, or contact your local TSC Printronix Auto ID representative.