Coffee Break Recap: How Our Combined Barcode Verification Solution with TEKLYNX LABEL ARCHIVE Enables Full Label Printing Control Across Your Enterprise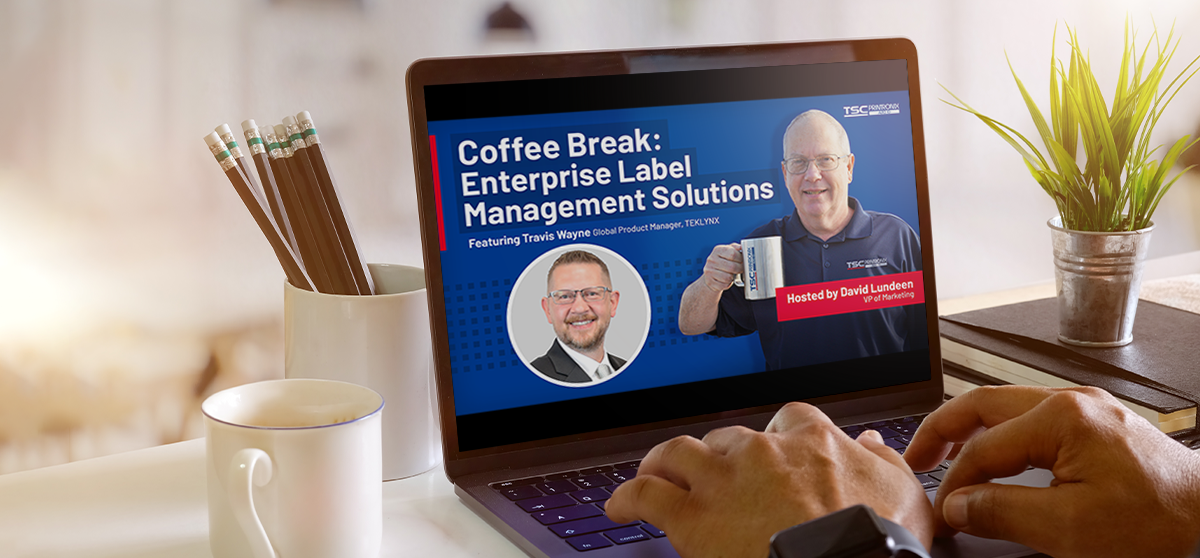 Combatting all the possible challenges your global, multi-location, highly regulated business may experience could feel overwhelming. From mitigating labor shortages to overcoming supply chain issues, there is a lot to consider. Modern tools and resources, such as barcode labels, are meant to ease the process and preserve your brand reputation, but what happens when issues arise during the label printing and inspection process?
During our latest Coffee Break event on "Enterprise Label Management Solutions," we spoke with Travis Wayne, the Global Product Manager at TEKLYNX, known for its software solutions that helps companies around the world Barcode Better. An important strategic partner, the discussion focused on why it's critical to print both accurately and efficiently, and how a combination of TSC Printronix Auto ID ODV-2D barcode inspection printers and TEKLYNX LABEL ARCHIVE software can help your company manage today's challenges.
Keep reading for the highlights and to learn how this partnership can help to enhance your productivity.
Benefits of Our Combined Solution with TEKLYNX
Given today's climate of labor shortages and disruptions in product flow and the supply chain, now more than ever it's critical to ensure accuracy and efficiency in productivity. With the TSC Printronix Auto ID ODV-2D line of enterprise industrial printers, your company is better able to mitigate labor shortages since the labels can be verified automatically without the need for an operator to scan each label.
One reason it's important to have this combined solution with our ODV-2D enterprise-grade barcode inspection printers and TEKLYNX LABEL ARCHIVE software is that errors in the label printing and verification process could cause compliance issues and penalties. And the workflow can be disrupted since these mistakes or errors can stop production. Since non-compliance typically comes with hefty fines, getting ahead of label issues can save you money. By implementing our combined solution, you can improve quality and efficiency, freeing up your opportunity cost to focus on other challenges.
Our key partnership with TEKLYNX enhances our existing printer capabilities and adds value to customers since it increases the overall quality of your labels. It provides a wide range of benefits from design elements to a variety of templates, and reporting control. Plus, our ODV-2D enterprise printers with barcode verification and validation store your information with security features such as encryption, password login, and traceability to see the process securely from start to finish. On the TEKLYNX side, you can also view the data while comparing it against the output without deploying any extra labor.
Added Efficiencies for Your Business
What additional benefits can this combined system offer to you and your business? Aside from the cost-effectiveness, accuracy, and efficiency, we've also made sure our labor-saving efforts work to your advantage. Our combined solution removes the guesswork and reduces training requirements, giving you peace of mind. Plus, the central browser-based interface gives you the ability to go through each step in the entire process in a streamlined, user-friendly way.
Our systems enable communication in other printer brands native language and it sends information about where it needs to be printed using Barcode GPS. Our barcode verification printers use that information to determine barcode details with less computing power needed than traditional methods. Another amazing feature is the camera attached to the front of our ODV-2D barcode validation printers which are tied into the firmware supporting the enhanced efficiency for barcode verification.
Your Business Elevated with Our Barcode Inspection Printers and TEKLYNX Software
Your barcode labels are a reflection of your organization. Not having the proper tools in place can increase customer dissatisfaction, increase your costs, and upset your supply chain partners in the process. When labels are not instantly readable, it can hamper your customer's productivity and impact your company's reputation. Automating the process and having access to print job data helps to ensure quality labels and more efficient operations.
Catch the replay of our TEKLYNX Coffee Break on our YouTube channel. To learn more about our combined solution, contact your local representative or inquire on our website.