Get Efficient Wide Label Printing with Our Enterprise Thermal Printers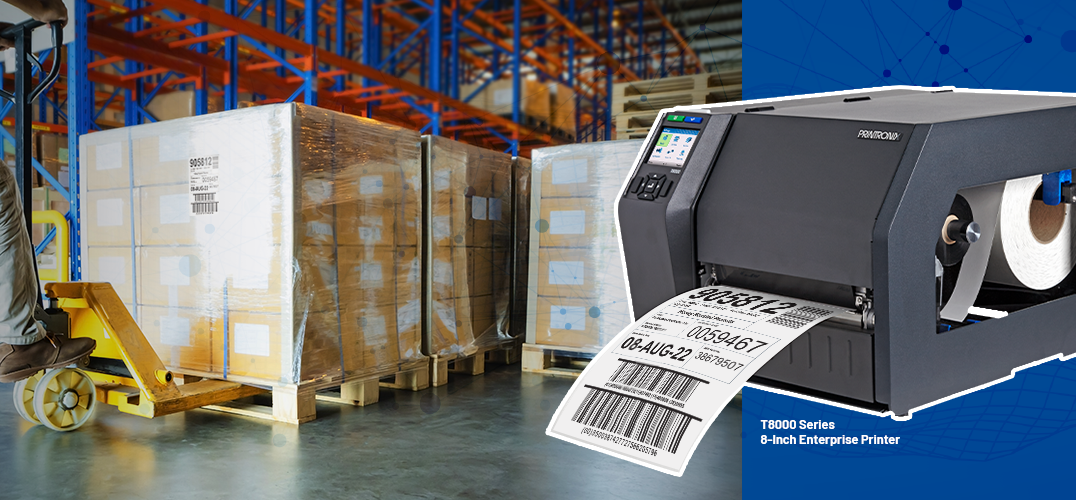 While four-inch-wide labels seem to be ubiquitous in the manufacturing and supply chain sectors, there are many applications that demand wide web printers to print six-inch or eight-inch labels. Some of these applications are driven by industry standards while others are driven by the end-use application or label printing efficiencies.
Using our Printronix Auto ID enterprise printers, wide label printing becomes more efficient and friction-free, facilitating better label printing for various applications. Keep reading to learn more about wide label requirements and how our printers enable efficient wide label printing.
Applications with Wide Printed Labels
In the U.S., Europe, and Japan, automotive organizations have set label standards for suppliers which call for expanded content that can only be satisfied with six-inch labels. Another example is in the chemical industry where drum labels are standardized on a bigger eight-inch format for larger print and better visibility.
Even in general supply chain applications, wide pallet labels may be used in order to easily include all the content and shipping information on a printed label. For certain applications, customers simply prefer printing on 6x4 inch landscape rather than 4x6 inch portrait.
"Multi-up" labels are another application for wide-web thermal printers. These are label constructions where two, three or four individual labels are located side by side across the web, enabling much better printing efficiency than printing a long batch of "single-up" labels. Some of the thermal printer multi-up applications were originally printed on impact dot-matrix or line printers and have been migrated to thermal for better print quality and higher speed printing.
Another wide label printing application is for a letter/A4 laser printer replacement. Laser printers are typically not very industrial and cannot handle the print volumes achieved with a thermal printer. Laser printers only last about one or two years, while a thermal printer has a much longer life cycle. Thermal printers that can support Postscript and PDF print jobs are ideal to replace laser printer applications.
Challenges with Wide Web Printers
When it comes to printing wide labels there are much fewer printers to choose from. Why is this? Designing and manufacturing printers to handle friction-free wide labels is much more challenging than the average four-inch thermal printer. With wide label printing, apart from accurately guiding the label through the print station, careful attention is needed to assure that the ribbon tension is even across the full web to avoid wrinkling. Careful attention is also needed to ensure uniform printhead pressure. If it is not properly engineered and built, these factors can result in poor print quality, and low grade or unreadable barcodes. This operational inefficiency in turn affects the end-use application and productivity.
Many wide label applications use a cutter to conveniently separate the labels. An important consideration is the cutter style. While guillotine cutters are common, high-torque rotary cutters are a much better fit to ensure a full clean cut across the full web, and without resulting in folding or adhesive build up. 
Improving Wide Label Printing Efficiency with Our Thermal Printers
There are many factors to consider when selecting a wide web thermal printer. Excellent brand reputation and a history of providing high performance products with a reliable and robust platform and enterprise-grade features are table stakes for these more challenging use cases.
TSC Printronix Auto ID has decades of experience perfecting thermal printer applications by designing precise and advanced printer technology to optimize real world performance.
Our T8000 enterprise industrial printer is available in 4-inch, 6-inch and 8-inch models with 203 dpi and 300 dpi print resolutions with proven outstanding print quality. With a reputation for exceptional reliability, this printer is designed for 24/7 operation and print volumes of more than 15,000 labels per day. Built on the proprietary PSA platform, these printers support all major printer languages (nine in all) along with an option for Postscript/PDF. And its high-end rotary cutter has proven itself to be highly effective with consistent performance in many industrial applications.
To learn more about our wide label printing solutions, visit our website or contact your local TSC Printronix Auto ID representative.