Need an Industrial Barcode Label Printer? Our Comprehensive Guide Helps You Select the Best One for Your Application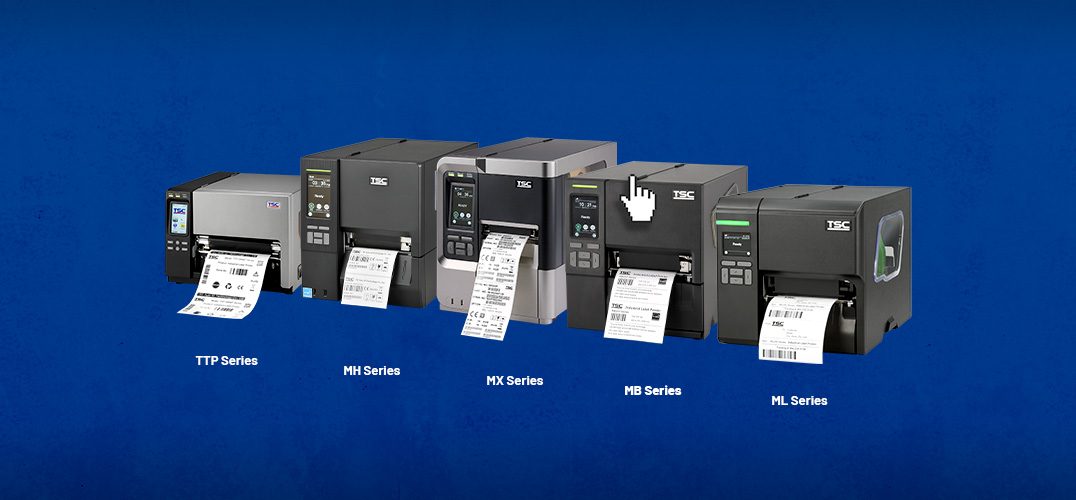 Is your organization seeking an industrial barcode label printer that meets a specific set of criteria to perform and support efficiency in your daily operations?
Our range of industrial printers feature some of the fastest print speeds across all of our printers, and they're built to last. Additional features range from tool-free maintenance to the ability to withstand tough production environments and more. Our broad portfolio of industrial printers provide numerous features designed for each unique business and application.  
Industrial printers are ideal for a range of industries including healthcare, manufacturing, transportation and logistics, and shipping. With so many printers to choose from, it can be difficult to know which one is best for your business. Read our comprehensive guide, below, that will help you select the best industrial barcode label printer for your unique business and operations.
ML Series Printers: Compact and Quiet
If your physical space is limited, consider the small but mighty ML Series 4-inch performance industrial printers.
ML Series printers are up to 34% smaller than our other printers, and these conveniently compact options still achieve up to a 300 dpi resolution. ML Series printers also feature reduced noise due to their purposeful design and printing algorithms.
ML Series printers are best for businesses that would rather focus on operations instead of maintenance. They feature self-diagnostic capabilities and real-time detection and response to errors so you can save money and resources on reprinting. With tool-free maintenance, ML Series printers are easy to manage and depend on.
MB Series Printers: Durable Design with Easy-to-Use Interface
Businesses looking to scale their operations and add to their existing fleet of TSC industrial printers will benefit from the MB Series 4-inch compact light industrial printers.
Like the ML Series printers, these printers are smaller and more compact, but their all-metal design and die-cast aluminum print mechanism make them a more durable option that can be used in demanding production environments such as extreme temperatures.
Users also benefit from an easy-to-use 3.5-inch color touch LCD panel featuring one-click operations and customizable menus. The printers also feature faster processors and updated firmware, making them an ideal next step for expanding your technology.
MX Series Printers: Around-the-Clock Performance
Faster, better, stronger. This is the performance you can expect when bringing MX Series 4-inch performance industrial printers into your business. These printers can achieve 600 dpi resolution and reach print speeds of up to 18 inches per second for 24/7 high-volume use.
Like the MB Series printers, they can withstand tough conditions. MX Series printers are also great for printing small 2D graphics, fine print, and other ultra-high-resolution print needs.
In addition, users can remotely manage these printers and monitor their performance to avoid downtime.
MH Series Printers: Precision, Speed, and Flexibility
MH Series industrial printers combine many of the best features from other industrial printers with additional options for either 4-inch or 6-inch label printers. They offer premium printhead technology, a fast processor, and high memory capacity to support their maximum resolution of 600 dpi and print speeds of up to 14 inches per second.
With their fast speeds and excellent resolution, these printers are great for high-output environments. They also feature real-time detection of print issues and remote printer management capabilities.
MH printers can also support various media lengths and widths, achieve a peeling off minimum of 0.5-inch labels in length, and avoid ribbon wrinkles for overall better print quality.
TTP Series Printers: Support for High-Quality, Wide-Format Labels
Like MH Series printers, TTP Series performance industrial printers also offer two options: 6-inch and 8-inch. They have the best print quality of any TSC wide label printers, making them the best option for wide label printing needs.
TTP Series printers can print thermal transfer and direct thermal labels, and they offer a memory card reader allowing you to store up to 32 GB more memory to support multiple fonts and graphics. They achieve up to 300 dpi resolution and speeds of up to 12-inches per second while also supporting multiple print languages and IT environments that your organization might depend on.
Choosing the Best Industrial Barcode Label Printer Option
With the full line of TSC Printronix Auto ID industrial printers, there is an option to fit every organization's needs. From small and compact options to the fastest and highest resolution printers TSC has to offer, our industrial printers are ready to help you solve the printing challenges your business faces.
If you're not sure which printer is best for you, start with a free printer consultation to begin comparing options with one of our printer experts.