Need to Print up to 5,000 Labels Daily but Tight on Space? Meet the T4000 Compact Industrial Printer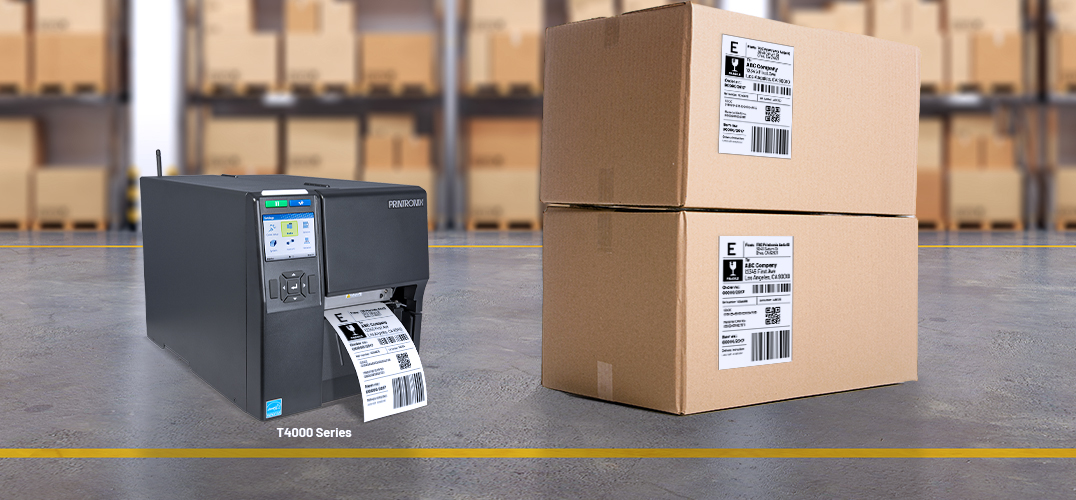 When you think of compact printers, you might not expect them to offer much in comparison to larger industrial printers. For enterprise environments with complex printing needs, a compact option might seem out of place.
But our T4000 Series compact industrial printer is turning that misconception on its head. Positioned between our T800 desktop printer and T6000e mid-range barcode printer model, this workhorse is a reliable and high-performance option that can fit a variety of printing needs across many industries.
Read on to see why this printer is the perfect option for affordable low to medium-volume barcode label printing applications.
The T4000 Printer: Reliable Performance in Countless Environments
The T4000 enterprise industrial printer may take up less space than other industrial printers, but that doesn't mean it puts in less work. In fact, it prints up to 5,000 4x6 inch labels per day at a speed of 10-inches per second — with the capacity for even more depending on the application.
Users of the T4000 printer also benefit from maximum uptime due to the printer's mean time between failure (MTBF) of 12,000 hours. The printer's 25 km printhead warranty and premium durable coating add another layer of assurance to handle your enterprise's mission-critical requirements.
Because of the T4000 printer's daily output capabilities and long warranty period, it's ideal for supporting fast-paced and accuracy-reliant industries such as:
Transportation and logistics
Food production and distribution
Automotive parts manufacturing and assembly
General manufacturing
The types of technology used by companies in these spaces can vary significantly. Luckily, the T4000 is compatible with major enterprise resource planning (ERP) and warehouse management systems (WMS). It also offers the flexibility to support nine barcode label printer languages, legacy printing environments, and the enterprise-level security protocols your business requires.
Outside of technology requirements, the T4000 can also hold its own against environmental demands. The printer can operate in 0-40 degrees Celsius and withstand up to 85% humidity. Its makeup of aluminum and treated steel also significantly lowers the chance of rust in more humid environments.
Industrial Capacity and Industry-Leading RFID Printing Capability
As the use of RFID labels continues to expand across industries, more organizations will need technology capable of supporting RFID print standards and requirements. The T4000 is ready to execute.
It not only supports both standard and on-metal RFID smart label and tag printing, but it also takes the guesswork out of printing these materials correctly. The T4000 can automatically determine the optimal printer settings for RFID encoding, eliminating the need for manual setup, and allowing you to print custom labels quickly and more affordably.
Easy Setup, Management, and Connection
With the T4000 printer's significant capacity and long uptime, you might expect its operation to be complex. Instead, this printer makes industrial-level operations simpler than ever.
It features a large color control panel with intuitive menus that make navigation and setup painless. As part of your setup, you can pair the printer to the rest of your technology as needed with several connectivity options:
Ethernet
Wi-Fi 802.11a/b/g/n/ac
USB device and host ports
Bluetooth 4.2 radio
Once it's up and running, the printer can be managed remotely with your choice of the free PrintNet Enterprise management tool or the subscription-based SOTI Connect. With both remote printer management solutions, you can expect a dashboard view showing status and analytics data about your printers. You can also use the tools to make proactive changes to your printer settings and jobs based on alerts.
A Compact Printer for Big Print Jobs
Although the T4000 Series industrial printer is compact, there's nothing small about the way it operates. With the ability to produce up to 5,000 labels each day and automatically optimize the printing of RFID labels, the T4000 is a reliable and easy-to-use printer that can consistently meet enterprise printing needs.
Users need little time to get the printer up and running, and its remote management capabilities give you the power to make sure it's always printing at optimum capacity.  
Learn more about the T4000 enterprise printer and its many applications on our website.