Tradeshow Takeaways from RFID Journal LIVE! We Showcased Our Cost and Time Saving Dual RFID/Barcode Inspection Printers and RFID Tag Encoding Expertise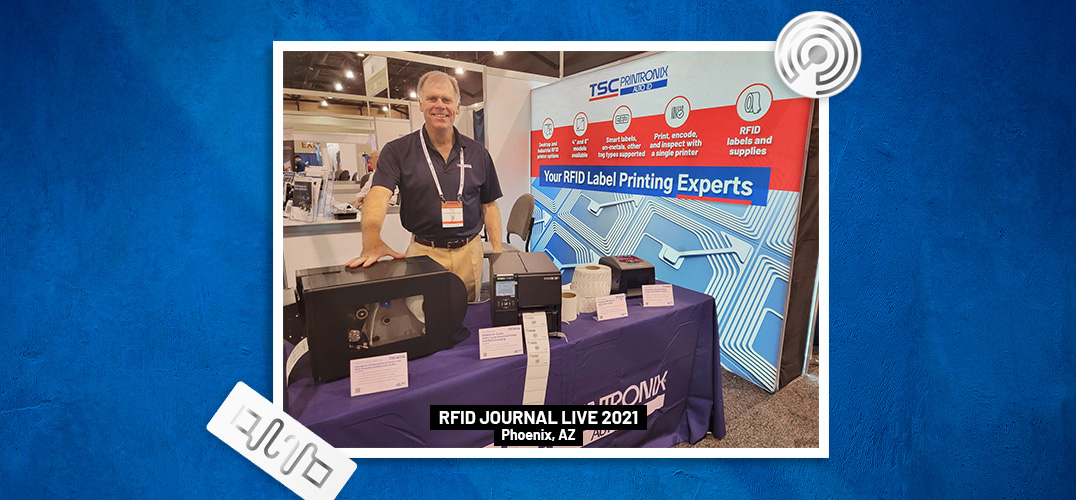 We recently exhibited our RFID printer with ODV-2D barcode inspection, and other industry-leading technology, at the 19th annual RFID Journal LIVE! conference held in Phoenix, Ariz. from Sept. 26-28. The premiere RFID event is the world's largest conference focused on radio frequency identification and showcases best-in-class RFID tags, readers, software, printers, and more. The event hosted thousands of attendees and more than 100 exhibitors.
As a growing leader in the RFID space, our company has a membership with the RFID Journal news platform, we are active members of the RAIN RFID Alliance, and we invest in RFID development, including testing a wide array of labels and tags in our RFID Label and Tag Validation Lab. This is just the beginning of our commitment to bringing RFID technology and practical knowledge to users in the market.
At the show, TSC Printronix Auto ID showcased our innovative enterprise-grade RFID printers with ODV-2D barcode inspection systems and our RFID expertise. This included details about how to properly encode RFID tags. Read our full blog below to learn more about printer solutions and insightful advice to help you encode RFID tags and prevent challenges such as tag clutter.
Printers with Integrated Barcode Inspection and RFID
Printronix Auto ID enterprise-grade printers featuring two-dimensional online data verification, or ODV-2D, is a solution that integrates a scanner within the printer to deliver effective barcode label inspection during the printing process. These printers enable users to improve efficiency by validating and grading labels while printing without the need for manual operator intervention or additional equipment. Our barcode inspection printers can detect an unreadable barcode label during the printing process, and automatically backup the bad label and restrike it so the label is corrected in the printer. This functionality is available on our T8000 and T6000e enterprise printers.
T6000e printers combine RFID capabilities with integrated barcode inspection. This means that users can print and encode RFID labels, and they gain automatic barcode quality grading and inspection on-demand. The solution helps users save time, money, and brand reputation by detecting and repairing bad labels during the printing process before items are shipped to your downstream customer. RFID upgrade kits are available for the T6000e to provide customers a cost-effective solution to integrate RFID technology into their operation without upfront investment. With the ability to print and encode standard and on-metal RFID labels, the T6000e offers impressive productivity and versatility. 
RFID Journal LIVE! attendees expressed interest in rugged reliability and the simplicity of our printer setup using the integrated scanner. "Most verifiers use an external scanner which requires you to feed paper through the printer followed by the scanner. The scanner needs a controller to drive it and a separate PC and monitor setup. In many cases, these add-on scanners require a template to identify where the barcodes are. Printronix Auto ID enterprise printers don't need any of this. Our integrated barcode inspection system is contained within a single footprint that includes everything you need to operate it. It's much simpler, and the printer is ready to go out of the box," said Doug Seitz, TSC Printronix Auto ID Product Manager – Vision Systems, in a recent blog.
How to Properly Encode RFID Tags
Participants at the show were eager for insights into properly encoding RAIN RFID tags to prevent tag clutter issues. Questions included:
What data should be encoded? 
How should the data be arranged in the encoding? 
What characters are allowed depending on which encoding scheme is used? 
These questions are critical, as a rise in RAIN RFID tag usage has resulted in two undesirable outcomes when not encoded correctly. RAIN Flooding is an excess of tags in the read-zone, resulting in some tags not being read. Acid Rain is when other tags mistakenly appear to be targeted tags.
RAIN RFID tags/labels should be deployed using a specific data formatting standard based on either:
Various ISO/IEC Standards
Read our blog, "Ground Rules for Optimizing RAIN RFID Tags by Using Proper Data Formatting," for additional details about the encoding process.
Investing in RFID Printing
Our RFID Label and Verification Lab works closely with inlay and tag manufacturers to test their products for compatibility with Printronix Auto ID RFID printers. Customers can also work with the lab to test their specific RFID labels and inlays with our RFID printers.
The Printronix Auto ID RFID family of printers includes several models, such as the well-priced T800 printer, the T4000, and the T6000e printer. The T800 desktop printer offers affordable enterprise-level productivity, dependable performance, with RFID printing and encoding, plus remote printer management. The T4000 RFID printer is positioned between the T800 and T6000e as a mid-range workhorse that prints up to 5,000 labels per day and is small in size, providing excellent print performance in a space-saving footprint.
If you missed the September RFID Journal LIVE!, there is still time to catch their encore of the event on October 27-28 by registering here. If you're interested in learning more about our RFID family of printers and solutions, contact our team at this link.