How RFID and Barcode Verification Technology Improve Your Food and Beverage Tracking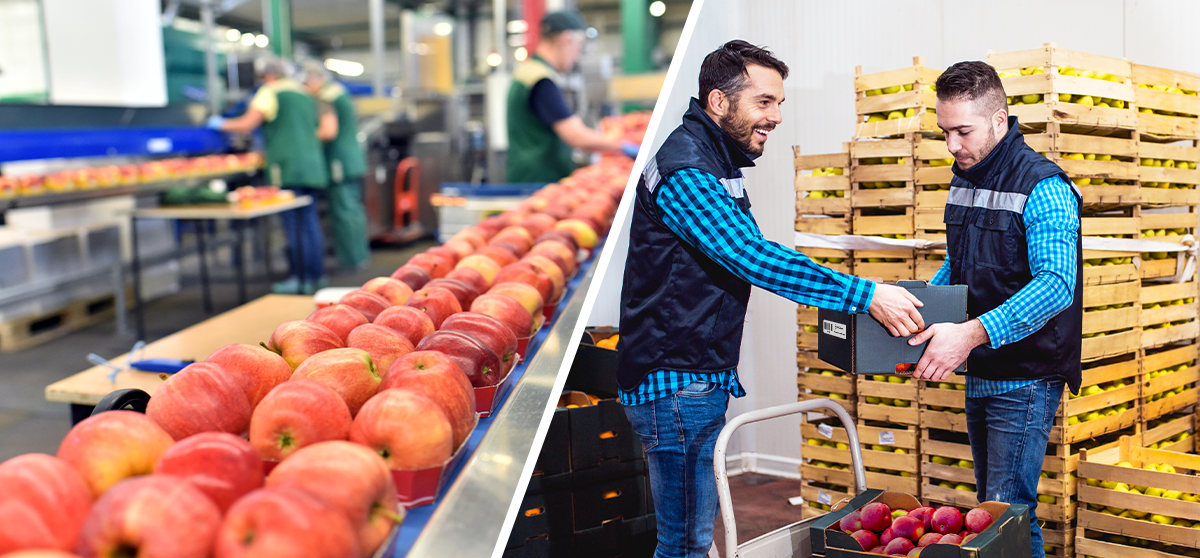 The food and beverage industry can gain better efficiency and enhanced tracking and tracing of food items throughout their journey by leveraging technologies such as RFID and barcode verification and validation.
Food and beverage supply chains are a highly complex process that requires products to move quickly, and full traceability is critical. This multifaceted process requires label accuracy across all steps. Ensuring the accuracy of barcode labels with an efficient, automated barcode verification process supports this. Leveraging RFID technology helps to improves traceability, inventory management, and efficiency.
Refrigerated Frozen Foods magazine found that Covid-19 generated even greater desire for detailed information from consumers about their food. "Consumers want supply chain transparency, robust product information, the assurance of food safety and swift action when a recall occurs." The magazine added: "Recognizing the need to improve supply chain visibility and, ultimately, traceability, foodservice companies are beginning to explore the use of radio frequency identification (RFID) technology to trace products throughout the supply chain and gain operational efficiencies. RFID-enabled efficiencies can cut labor costs by as much as 50% in the food supply chain, according to Avery Dennison."
Enhanced traceability helps companies better track food sources during product recalls. Better visibility into your inventory can also improve revenues by enhancing efficiency and allowing you insights into customer behavior. Whether you're labeling raw materials or produce fresh from the farm, or boxes of finished products from a manufacturer, it is important that each item be properly labeled to meet all standards and requirements.
Today we'll explore more about our solutions to support food and beverage safety and traceability.
Better Track and Trace Efficiency with RFID Technology
RFID technology offers numerous benefits for the food and beverage industry. From smart sensors that detect temperatures to a reduction in food waste, RFID presents solutions for many challenges.
As Brian Wood, Sales Director at PLM TrustLink™ stated: "At PLM TrustLink™, the ability to leverage RFID tags and RFID sensor loggers are paramount in our value to mark, digitize and offer our customers the utilization of critical tracking events and key data elements on food related product within our SaaS platform. Our customers are demanding product information in real-time as it travels throughout the supply chain both inside and outside their four walls, the capability of source tagging food product with RFID allows us to meet and exceed this demand."
Here are several ways RFID enhances the process:
Temperature sensor labels: These labels can sense temperature for food/beverage items that are temperature sensitive. Some of these labels can also store temperature data directly in the RFID label's memory for better visibility into the item's journey, called "temperature sensor-logger labels."
RFID for the supply chain and the consumer: "Dual-frequency" RFID labels can be printed and encoded in the field or at the food manufacturer with a typical UHF RFID printer. The benefits of UHF RFID can then be leveraged from that point on, through the entire supply chain. However, a simple NFC tap (a method of wireless data transfer) from a user's phone can also read the label at any time during the product's lifecycle. This includes consumers at the end of the chain, who can leverage their smartphone to obtain product information. Such information might include checking a product's origins, providing data such as nutritional information, origin date, expiration date, or even associated recipes listed on a linked website.
Reduction of food waste: RFID allows for more accurate, faster, and more automated control of your inventory. With better insight into your inventory, food waste can be minimized — while helping your bottom line.
Manufacturer Avery Dennison also discussed how RFID tags can reduce waste and improve efficiency: "RFID tagging can help you reduce waste by as much as 20 percent by aligning your inventory with variable demand across different regions. Data provided by RFID also gives you far greater visibility into expiry, enabling you to discount or otherwise promote soon-to-expire items. You can also monitor temperature-sensitive products during their journey through the supply chain, to help you avoid waste through spoilage."
TSC Printronix Auto ID has a family of RFID capable printers designed for various applications, from affordable and compact devices to high performance enterprise printers.
Accuracy for Critical Product Labeling
Food and beverage product labeling includes crucial information that must be accurately printed on each barcode label. This vital information can include things such as a list of product allergens, the expiration date, the manufacturer, and vital nutrition information.
For food and beverage product labeling, our DA Series Performance Desktop Printers or the T4000 Enterprise Industrial Printers offer a great solution. The T4000 also has optional RFID capabilities if that feature is needed.
With compliance fines on the rise, companies are looking for ways to verify barcode label accuracy before shipping. Our T6000e and T8000 enterprise-grade printers have integrated ODV-2D barcode inspection technology that covers both 1D and 2D label verification and validation. This system is automated, scanning and grading barcodes during the printing process. If a bad or unreadable label is discovered, these printers automatically retract the label, overstrike the bad one, and print a new readable label without requiring operator intervention. This saves time and money ensuring labels are accurate while also providing access to data to validate label accuracy when disputing a chargeback or in an audit.
The T6000e also offers dual technology with barcode inspection and RFID capabilities for flexibility with a broad range of printing needs.
Simplified Direct Store Delivery with Mobile Printers
Mobile printers present another option with flexibility for food manufacturers looking to deliver directly to customers. Delivery drivers can print receipts and invoices on-demand, instead of waiting for an invoice to arrive in the mail, enhancing efficiency for both parties.
Our smart Alpha-30L and Alpha-40L Mobile Printers are lightweight and designed to move easily with your employees throughout the day for an entire shift. These printers are equipped with extensive communication options, including Bluetooth and Wi-Fi, to enhance operations in the field. These printers include linerless printing options and a range of accessories such as belt clips for individual wear and equipment mounts for group access on forklifts.
With smart battery management and military-grade standards for drop and vehicle vibration, you won't have to worry about these mobile printers standing up to usage on the go. Both models have been rigorously tested to withstand a 1.0 m (3.28 ft) tumble and 1.8 m (5.9 ft) drop.
Simplify Food and Beverage Tracking
The food and beverage industry involves a complex orchestration of various food products, produce, and finished goods across a complex — and often global — supply chain. While the process is quite involved, technologies such as RFID, barcode inspection, and mobile solutions can help you simplify it. These technologies support better inventory tracking, traceability of products throughout the supply chain, and efficiency for enhanced peace of mind.
Explore our food and beverage solutions page for more information, or contact your local representative to determine which solution is right for your organization.