Our Enterprise Printers Are Built for Mission-Critical Applications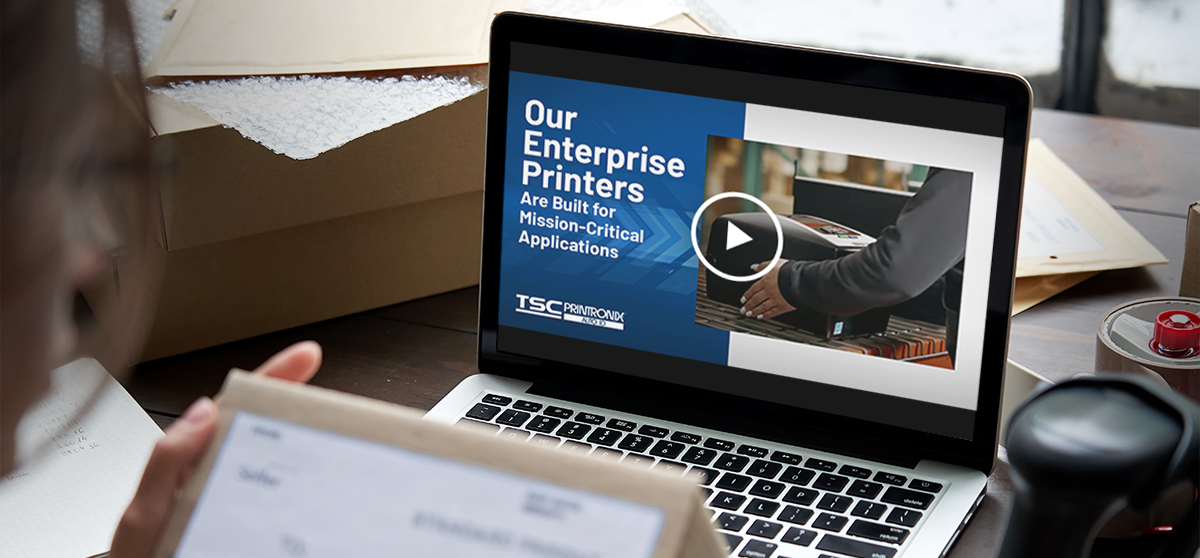 At TSC Printronix Auto ID, we have a versatile lineup of mission-critical printers that comprise our enterprise line. Our full range of enterprise-level industrial barcode label printers are built tough, designed to perform in the most demanding environments.
Our new video showcases the robust and extensive capabilities of our enterprise printer lineup.
Available in a wide selection of sizes and capabilities, our enterprise printers deliver high performance, flexibility, and reliability through a range of printer language emulations plus secure and reliable wireless connectivity options. All our enterprise printers are compatible with SOTI Connect remote printer management software to enhance ease of managing global printer fleets from anywhere. Plus, this wide range of printers from desktop to high-end come with available numerous options. Two models feature our unique, time-saving ODV-2D barcode inspection technology and several enterprise models are equipped with RFID capabilities.
What qualities can you expect from our enterprise line? Each printer is guaranteed to be:
Rugged
Reliable
Easy to use
Versatile
High-tech
Built to last
All are equipped with peace of mind built in. Let's get into the types of printers in this line and what each can do for you and your business.
Enterprise Barcode Label Printers
In our enterprise line, we have four printer series: The T800 Series, T4000 Series, T6000e Series, and the T8000 Series. Each offers something different but valuable, and depending on your needs, it can help boost productivity in no time.
T800 Series: Light Duty Desktop Printer with RFID Option
The T800 Series Enterprise Thermal Desktop Printers feature high-performance, enterprise-level productivity, and high-end features such as Wi-Fi and RFID encode during print technology while being light duty for ease of use. It's the first desktop printer to incorporate renowned Printronix System Architecture (PSA) and a full suite of labor-saving features and printer management tools for easy day-to-day operations.
With a fast print speed of 8 ips and a duty cycle of over 1,000 labels per day and easy to operate 300-meter ribbons for fewer ribbon changes, you can expect enterprise-level productivity from this series.
It includes these other versatile features as well:
Enterprise-level communication features including standard USB and optional Wi-Fi and Bluetooth 5.0
Compatible with PrintNet Enterprise (PNE) remote printer management tool
Solid double-wall, clamshell construction to meet the needs of the busiest desktop environment
T4000 Series: Compact Ultra-Rugged Printer with RFID Option
This ultra-rugged, compact enterprise industrial printer is an affordable option with the ability to print 5,000 labels a day at speeds of up to 10 ips. The 4-inch models come equipped with high-end features and remote printer management capabilities such as RFID encode during print technology and Printronix System Architecture (PSA). With multiple connectivity options, remote printer management tools, and automated alerts, you can keep your enterprise operating at optimum efficiency and productivity with this ultra-rugged mid-range printer.
Compatible with the printer management tool, PrintNet Enterprise, the fast processor offers enterprise-level productivity, and uptime is maximized with 450m ribbons and 8-inch label roll capacity. Connectivity is simple with Wi-Fi and Bluetooth® capabilities, or Ethernet, USB Host, USB Device, and serial. Encryption maintains security protocols for added protection as well.
Its dependable design offers:
Rugged metal enclosure with bi-fold side panel
Proprietary printhead algorithms to deliver high-quality barcodes
Large LCD color screen and easy-to-use control panel
High mean time between failure of up to 12,000 hours
Wide operating temperature range from 0 to 40 degrees Celsius
T6000e Series: Rugged Versatile Printer with Barcode Inspection and RFID Options
With options in 4-inch or 6-inch, this mid-range enterprise industrial printer sets a new standard for versatility and productivity in fast-paced environments where speed and exceptional printer quality are needed. Available with RFID encode during print technology and barcode label inspection, the T6000e is one of the most versatile printers on the market with the ability to print 10,000 labels a day at high speeds. This ultra-rugged, mid-range printer offers:
High resolution 300 dpi printing for small label applications
Printronix System Architecture (PSA)
Multiple connectivity options
Remote printer management tools such as SOTI Connect
Automated alerts to keep your enterprise operating at optimum efficiency and productivity at a print speed of 14 ips
With a solid metal frame construction for reliable operation and an intelligent heat management system, this printer increases printhead life and improves barcode print quality while reducing operating costs. Plus, it includes a comprehensive Wi-Fi security suite to optimize productivity.
T8000 Series: Flagship High-Volume Printer with Barcode Inspection Option
The T8000 Enterprise Industrial Printer Series is one of the most durable options, a high-end printer with a color display, multi-connectivity capability, and optional ODV-2D inline barcode verifier technology. It is available in 4-inch, 6-inch, or 8-inch options. This ultra-rugged, high-volume thermal printer includes our integrated barcode inspection technology for automated scanning and grading of each label. When the printer detects an unreadable label, it automatically overstrikes and reprints it without requiring operating intervention, streamlining your process, and saving time and money.  
With unmatched industrial performance, ease of use, and 100% verifiable output, the T8000 enterprise-grade printer exceeds the requirements of the most demanding mission-critical manufacturing and distribution operations with 40% faster print speed, 6x faster-processing speed, and 8x more memory than the competition.
Mission-Critical Enterprise Printing Solutions
Our enterprise line is broad and versatile to meet the needs of your business. If you're interested in learning more about one of these printers, fill out our form online so we can help you select the best model for your needs.
And watch our new video to see our versatile enterprise printer lineup in action.